PUNJAB
HARYANA
JAMMU & KASHMIR
HIMACHAL
REGIONAL BRIEFS
NATION
OPINIONS
LETTERS
BUSINESS
SPORTS
WORLD
Friday, May 29, 2009, Chandigarh, India
Updated at 3:00 am (IST)

Team in Place
Sibal gets HRD, Sharma Commerce
Kamal Nath handed over Road Transport, Deshmukh Heavy Industries
New Delhi, May 28
Pawan Kumar Bansal, the newly-elected Lok Sabha member from Chandigarh, was today named as the Parliamentary Affairs Minister while Anand Sharma was appointed the Commerce and Industry Minister as Prime Minister Manmohan Singh allocated portfolios among his colleagues in the new Council of Ministers.
Editorial: Now, time for action

Nation page: Complete list of portfolios
Perform or perish, Sonia tells Cong ministers
New Delhi, May 28
Congress President Sonia Gandhi today virtually put newly inducted party ministers on notice suggesting that they "perform or perish." "Some of those who are inside can make way for others," Gandhi said after the swearing-in ceremony of ministers at Rashtrapati Bhawan.
CAST YOUR VOTE
Do better-than-expected corporate quarterly results show that India's economy is facing the global recession well?

Advt
India's Renowned Astrologer, Palmist, Tell your DOB,
0172-4372411, 09316048411.
BRIDES WANTED
GROOMS WANTED
OTHERS
HOW TO PLACE ADVTS
EDUCATION
JOBS & CAREERS
HEALTH & FITNESS
SCIENCE & TECHNOLOGY
REAL ESTATE
SPORTS
TRIBUNE CLASSIFIEDS
Feel safe with Phalcon in sky
IAF inducts first spy plane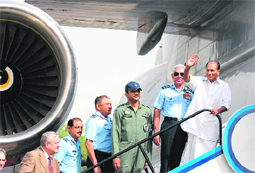 New Delhi, May 28
The Indian Air Force (IAF) today inducted its first airborne warning and control system (AWACS) called the "Phalcon" or "eye-in-the-sky".
Defence Minister AK Antony waves as IAF chief FH Major looks on during the inspection of AWACS in New Delhi on Thursday. — AFP photo

NDA 60 Glorious Years
1857 The First Challenge
E - Revolution 2005:
A Two-day IT conclave
Assembly Elections - 2005
Turbans
Chandigarh is 50
125 Years of The Tribune
India: The Tasks Ahead
India at Sixty
A Tribune Supplement
EARLIER FEATURES
Vienna Backlash
Day curfew lifted in Punjab
Chandigarh, May 28
Even as peace returned to Punjab, night curfew continued in the violence-hit areas in Jalandhar, Phagwara, Hoshiarpur, Malout and Ludhiana. After three days of trouble in the region, shops and other commercial establishments reopened and majority of the train and bus services have been restored in the state. However, some educational institutions remained closed in the disturbed areas.

SC: Judges should not think they know everything
New Delhi, May 28
Observing that the judges should not think that they "know everything", the Supreme Court today stayed an Orissa High Court order that had raised the marks of six postgraduate medical candidates. "Judge is not an Emperor. How can he increase marks," a vacation Bench comprising Markandey Katju and Deepak Verma said while issuing notice and staying the high court order on a plea filed by the affected candidates.



Another racial attack on Indian in Oz
Melbourne, May 28
In a fresh incident of racial attack on Indians in Australia, a 25-year old student was stabbed here even as another youth from Andhra Pradesh was battling for life after an assault by local teenagers. Baljinder Singh was attacked on Monday night when two men carrying weapons approached him with the intention of robbing, the Herald Sun reported.
Manmohan calls up 59 MPs
May 28, 2009

Punjab limps back to life
May 27, 2009

Army out to restore peace
May 26, 2009

Row over: DMK to join govt
May 25, 2009

Team Manmohan gets going
May 24, 2009

Manmohan Singh sworn in as PM
May 23, 2009

DMK, Didi keep Cong on toes
May 22, 2009

Manmohan appointed PM
May 21, 2009

Time-bound targets for poll promises
May 20, 2009

Sensex poll vaults, crosses 14,000 mark
May 19, 2009