PUNJAB
HARYANA
JAMMU & KASHMIR
HIMACHAL
REGIONAL BRIEFS
NATION
OPINIONS
LETTERS
BUSINESS
SPORTS
WORLD
Saturday, May 30, 2009, Chandigarh, India
Updated at 3:00 am (IST)

Horror Down Under
* Now, petrol bomb hurled at Indian student
* 5 teens arrested
Melbourne, May 29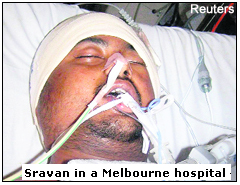 As India piled up pressure on it to act, Australia today arrested five teenagers in connection with the recent assaults on Indian students and charged one of them with attempted murder amid a fresh incident of a petrol bomb attack that left a youth from the community badly burnt.
Editorial: Hate in Melbourne
Punjab page:

Sukhbir writes to PM, seeks mediation

Now, NZ faces heat

CAST YOUR VOTE
Do better-than-expected corporate quarterly results show that India's economy is facing the global recession well?

Advt
India's Renowned Astrologer, Palmist, Tell your DOB,
0172-4372411, 09316048411.
BRIDES WANTED
GROOMS WANTED
OTHERS
HOW TO PLACE ADVTS
EDUCATION
JOBS & CAREERS
HEALTH & FITNESS
SCIENCE & TECHNOLOGY
REAL ESTATE
SPORTS
TRIBUNE CLASSIFIEDS
Manmohan talks to Oz PM
New Delhi, May 29
A concerned Prime Minister Manmohan Singh today raised with his Australian counterpart Kevin Rudd the issue of the recent attacks on Indian students in Melbourne.
Scared family may call Baljinder back
Air France passengers harassed again
Mumbai, May 29
A fortnight after over 50 Indian passengers alleged they were victims of racial profiling while flying Air France, ten Indians, travelling by the same airline, met a similar fate when they were stranded for an entire night in a Paris airport lounge.
| | |
| --- | --- |
| | PUNJAB: Now, NZ faces heat |
| | HARYANA: Property dealer robbed of Rs 40 lakh |
| | |
| | HIMACHAL: Cabinet extends National Health Insurance Scheme |
| | CHANDIGARH: |
NDA 60 Glorious Years
1857 The First Challenge
E - Revolution 2005:
A Two-day IT conclave
Assembly Elections - 2005
Turbans
Chandigarh is 50
125 Years of The Tribune
India: The Tasks Ahead
India at Sixty
A Tribune Supplement
EARLIER FEATURES
Sonshine in Tamil Nadu
Karuna makes Stalin Dy CM


Chennai, May 29
Tamil Nadu Chief Minister M Karunanidhi today elevated his son and local administration minister MK Stalin to the rank of Deputy Chief Minister, signalling that all hurdles for his succession to the throne had been cleared.
Nation page: Stalin: A case of slow, but steady rise
Navy foils another attack by pirates
New Delhi, May 29
The Indian Navy has yet again flexed its muscles against pirates operating off the coast of Somalia in Africa.
Mid-course correction in Bofors case, if needed: Moily
Electoral reforms top on agenda, says Law Minister
New Delhi, May 29


Vowing to make his five-year tenure an "era of holistic judicial reforms," Law Minister M Veerappa Moily today affirmed that the Congress-led government did not have "any vested interest" in protecting corrupt elements and would go for "mid-course correction" in the case of Bofors payoff accused Ottavio Quattrocchi, if necessary.
Maximum HIV+ drug addicts in Amritsar
Chandigarh, May 29


Amritsar district now has the highest number of HIV positive intravenous drug users in the country. According to the latest figures released by the National AIDS Control Organisation, Amritsar has overshot Churchandpur district of Manipur in this regard.
Sibal gets HRD, Sharma Commerce
May 29, 2009

Manmohan calls up 59 MPs
May 28, 2009

Punjab limps back to life
May 27, 2009

Army out to restore peace
May 26, 2009

Row over: DMK to join govt
May 25, 2009

Team Manmohan gets going
May 24, 2009

Manmohan Singh sworn in as PM
May 23, 2009

DMK, Didi keep Cong on toes
May 22, 2009

Manmohan appointed PM
May 21, 2009

Time-bound targets for poll promises
May 20, 2009