M A I N N E W S
Horror Down Under
*Now, petrol bomb hurled at Indian student
*5 teens arrested
May 28: Petrol bomb thrown at 25-yr-old Rajesh Kumar. Status: 30 pc burns, hospitalised
May 25: Baljinder Singh (25) stabbed by two youths, while he was returning home. Status: Discharged from hospital but is under shock
May 23: Sravan Kumar (25) and three others assaulted with a screwdriver by gatecrashers at a weekend party. Status: In ICU on life support
May 9: Sourabh Sharma brutally beaten up in train. Status: Not known
*There are over 47,000 Indian students in Victoria
Melbourne, May 29
As India piled up pressure on it to act, Australia today arrested five teenagers in connection with the recent assaults on Indian students and charged one of them with attempted murder amid a fresh incident of a petrol bomb attack that left a youth from the community badly burnt.
A 17-year-old boy was charged with attempted murder after four Indian students, including 25-year-old Sravan Kumar, were attacked by gatecrashers at a party here over the weekend, Victorian police said, adding another 18-year-old was quizzed in relation to the assault, but has since been released. Kumar, who was stabbed with a screwdriver at the birthday party, remained critical and was still on life support.
Police also charged four minors in another case involving the brutal bashing of a 21-year-old Indian student, Sourabh Sharma, on a train on May 9. As per the rules, the arrested boys have not been identified. They have been charged with offences including affray, intentionally causing injury, recklessly causing injury and robbery, the Victoria police said in a statement.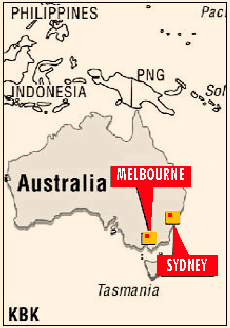 The arrests came after Indian High Commissioner Sujata Singh said the spate of assaults targeting Indian students in Australia have to "stop now" and asserted that racism was a factor in some of the incidents.
In a fresh incident of attack, 25-year-old Rajesh Kumar suffered 30 per cent burns after a petrol bomb was hurled at him in his home in Sydney.
According to reports, Kumar was quickly covered by a blanket by his flatmate after the attack yesterday, an act which saved him from further injuries. Kumar was sitting on his bed in the front room of his rented house when an unknown person threw what neighbours say was a small petrol bomb through his window. The explosion and subsequent fire left Kumar with burns to a third of his body.
A New South Wales Fire Brigades spokesman said Rajesh Kumar's flatmate Arminder Singh did the right thing when he grabbed a blanket and threw it over his friend, helping to extinguish the flames.
"He was crying. He lay down on the ground and I put the blanket on him," Singh said adding "I told him everything was going to be OK. He asked: 'Is my face OK?" Singh, 33, said he was halfway between the laundry and kitchen when he heard the sound of smashing glass and his friend screaming.
He and another flatmate, Chander Mohan, said they saw Kumar run out of his bedroom and out the front door with his back and arms on fire. Singh and Mohan said the attack was terrifying. "We could neither sleep nor eat all night," Singh said.
They had moved into the house with Kumar and two other flatmates in February but were moving out again as soon as possible, Mohan said.
He said Kumar had no enemies and had not been in any trouble. "We don't know why," Mohan said. Singh said he had been robbed on the street three times in the past two months.
Meanwhile, the Indian High Commissioner Sujata Singh, who met Premier of Victoria John Brumby, Deputy Premier Rob Hulls, Minister for Skills and Workforce Participation Jacinta Allan, Melbourne Police Commissioner Simon Overland and other top officials of the state, said the authorities assured their full support, with police saying that they will increase patrolling near the trouble spots.
During the meetings, she said, "I conveyed what our External Affairs Minister (SM Krishna) has clearly said: "Such attacks should not be allowed to happen. It is the responsibility of Australian authorities to ensure the well-being and security of our students studying in Australia." Her remarks came as Shravan Kumar, who hails from Andhra Pradesh, fought for his life in a hospital here after being stabbed by a screwdriver by a group of teens in the weekend attack that also left three of his friends injured.
Another student Baljinder Singh, stabbed by two attackers early this week, has been discharged from hospital. Singh was attacked near the Carnegie train station by two armed men, who also demanded money from him.
Top police official here, however, denied that the attacks on Indian students were racially motivated.
There was a perception that Indian persons were "prey" for criminals, Deputy Commissioner Kieran Walshe was quoted as saying by media here.
"I don't think they are racist crimes in general ... We think they (Indians) are vulnerable, we don't think it's racial, we think they are a weak target." Prime Minister Kevin Rudd said he was horrified at the attacks but defended the police response.
Meanwhile, accompanied by Anita Nayar, India's Consul General in Melbourne, High Commissioner Singh visited Shravan Kumar in the ICU of Royal Melbourne Hospital and also met his friends who had been injured in the weekend attack. "I talked to Doctors in the ICU. Shravan is being given the best medical treatment possible," Sujata said.