M A I N N E W S
Navy foils another attack by pirates
Tribune News Service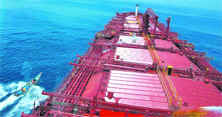 Naval commandos used an attack helicopter to fire at the pirates. — Photo courtesy: Indian Navy
New Delhi, May 29
The Indian Navy has yet again flexed its muscles against pirates operating off the coast of Somalia in Africa. Naval commandos on board war ship INS Talwar, were deployed using a chopper to fire at a group of well-armed pirates, who in daring attempt were trying to board a cargo ship.
Two of the pirates, attempting to board the cargo ship, fell into the sea waters and are feared to have been killed. Six others were arrested they were equipped with rocket launchers, AK 47 assault rifles, a GPS system and phones. The incident occurred yesterday afternoon some 225 nautical miles off the coast of Aden, a naval spokesperson said today.
This is the fourth major attack by the navy on pirates since it was deployed in November last year. The Indian warship is part of the international collation of Russia, China, UK, France and other NATO countries that are working in tandem to ensure that the world busiest shipping route is freed from pirates
The INS Talwar, a guided missile frigate, was escorting a group of three cargo ships in the international recommended transit corridor through the Gulf of Aden. One of the ship, MV Maud's crew noticed an eight-member pirate gang in a skiff (a small motorised speed boat) approaching towards it. The ship is registered in Liberia but was having an India crew.
The cargo vessel's captain Manpreet Singh Dhaliwal sent out a distress signal to the Indian war ship. "There was just about two-mile visibility at that point of time due to a dust haze hence making it sure that the pirates were less than two miles away," sources explained.
As the helicopter approached the cargo vessel, Navy commandoes noticed two of the pirates trying to board the ship after locking a make-shit ladder on to it. Using a light machine gun the naval commandoes fired at the two men, who fell into the sea. The duo is feared dead as the Navy personnel did not see them resurfacing.
Even as the chopper operations were on, a boat was lowered by the warship into sea. The remaining six pirates were asked to surrender, which they did. On searching the boat sophisticated weapons
were recovered.
Since, further piracy attacks were possible due to the low visibility prevailing at that time, the Indian warship proceeded to continue with the escort duty and the cargo ships are on way to their destinations. It takes about 48 hours for cargo ships to cross through the demarcated transit corridor. Warships from other countries had arrived on the scene for follow up action.
Capt Dhaliwal, has emailed a thank you letter to the navy on board from his ship. The email says, "On behalf of the Owners, crew and officers of MV Maud, I wish to express our gratitude for your prompt and effective action to thwart the attempted piracy attack on MV Maud earlier today."