PUNJAB
HARYANA
JAMMU & KASHMIR
HIMACHAL
REGIONAL BRIEFS
NATION
OPINIONS
LETTERS
BUSINESS
SPORTS
WORLD
Sunday, May 31, 2009, Chandigarh, India
Updated at 3:00 am (IST)

Anger mounts as Oz image takes a hit
20 assaults in 30 days in Sydney alone; Indians seek action
Melbourne, May 30
Anger among Indian students here is growing in the wake of recent assaults that left a youth from the community battling for life after being stabbed and another badly burnt following a petrol bomb attack.


Big B wants to turn down honour

Don't come to Australia, says victim
Racial Assaults
Agonising wait for a mother
Yamunanagar, May 30
Amarjit Kaur was a happy mother till the other day. Today she is a worried parent. Her son Rajesh Kumar suffered 30 per cent burn injuries after a petrol bomb was hurled at him in his home in Sydney on May 28.


BJP to raise issue in Parliament
CAST YOUR VOTE
Do better-than-expected corporate quarterly results show that India's economy is facing the global recession well?

Advt
India's Renowned Astrologer, Palmist, Tell your DOB,
0172-4372411, 09316048411.
BRIDES WANTED
GROOMS WANTED
OTHERS
HOW TO PLACE ADVTS
EDUCATION
JOBS & CAREERS
HEALTH & FITNESS
SCIENCE & TECHNOLOGY
REAL ESTATE
SPORTS
TRIBUNE CLASSIFIEDS
HC: Courts can decide religious conflicts
'Unshorn hair essential component of Sikhism'
Chandigarh, May 30
A Full Bench of the Punjab and Haryana High Court today held that courts could enter into "religious thicket" in case of a conflict. Comprising Justice JS Khehar, Justice Jasbir Singh and Justice Ajay Kumar Mittal, the Bench also concluded that "maintaining hair unshorn was an essential component of the Sikh religion"; and that admissions under the Sikh minority community quota could be restricted to candidates maintaining "Sikhi swarup" or keeping their hair unshorn.
Cong picks Meira for Speaker's post
New Delhi, May 30
The country is all set to get its first woman Lok Sabha Speaker. Newly sworn-in Water Resources Minister and daughter of former Deputy Prime Minister and well-known Dalit leader Babu Jagjivan Ram, Meira Kumar, was picked for the prestigious post by the ruling United Progressive Alliance (UPA) today.


PM offers Dy Speaker's post to Oppn
| | |
| --- | --- |
| | PUNJAB: CM, Sukhbir visit Dera Sachkhand |
| | HARYANA: Now, report cards for doctors |
| | |
| | HIMACHAL: Five DCs shifted |
| | CHANDIGARH: Shyam 3rd in AIEEE |
NDA 60 Glorious Years
1857 The First Challenge
E - Revolution 2005:
A Two-day IT conclave
Assembly Elections - 2005
Turbans
Chandigarh is 50
125 Years of The Tribune
India: The Tasks Ahead
India at Sixty
A Tribune Supplement
EARLIER FEATURES
Prez address to unveil Cong plan
New Delhi, May 30
While unveiling the UPA government's priorities over the next five years, the Presidential address, to be delivered to the joint session of Parliament on June 4, will draw exhaustively from the Congress party's election manifesto, promising to increase the quota for women in panchayati raj institutions from the present 33 to 50 per cent.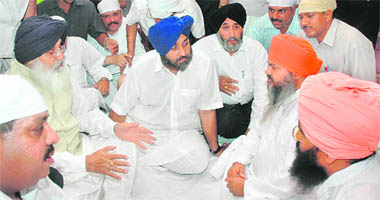 Punjab Chief Minister Parkash Singh Badal and Deputy CM Sukhbir Badal offer condolences to Sant Surinder Dass over the death of Sant Ramanand, at Dera Sachkhand in Jalandhar district on Saturday. Tribune photo: Pawan Sharma
(Detailed report on Punjab page)

Costly feed: Poultry prices spiral
Chandigarh, May 30
The sky-rocketing prices of poultry feed have led to the highest-ever price of these products in the lean summer season. The prices of eggs and chicken have shot up by 33 per cent in the past one year, in spite of low demand in the domestic market.
Horror Down Under
May 30, 2009

Sibal gets HRD, Sharma Commerce
May 29, 2009

Manmohan calls up 59 MPs
May 28, 2009

Punjab limps back to life
May 27, 2009

Army out to restore peace
May 26, 2009

Row over: DMK to join govt
May 25, 2009

Team Manmohan gets going
May 24, 2009

Manmohan Singh sworn in as PM
May 23, 2009

DMK, Didi keep Cong on toes
May 22, 2009

Manmohan appointed PM
May 21, 2009