M A I N N E W S
Anger mounts as Oz image takes a hit
20 assaults in 30 days in Sydney alone; Indians seek action
Melbourne, May 30
Anger among Indian students here is growing in the wake of recent assaults that left a youth from the community battling for life after being stabbed and another badly burnt following a petrol bomb attack.
Television footage of 25-year-old Shravan Kumar, who was stabbed with a screwdriver by a group of teenagers, battling for life in a hospital here sent shock waves among the 95,000-strong Indian student community in Australia which sought stern action against the culprits.
The Federation of Indian Student Association (FISA) in Victoria has called for a peace rally here tomorrow in response to the growing anger in the community against increasing hate crimes.
"The purpose is to create an awareness about an increasing number of hate crimes within the state (of Victoria) and to promote racial harmony and peace," FISA said in a statement.
The statement came as an Indian student, 25-year-old Rajesh Kumar, suffered 30 per cent burns after a suspected petrol bomb was hurled at him in his home in Sydney two days back.
The rally will start from Royal Melbourne Hospital, where Sravan is lying in coma, and conclude at the Victorian Parliament House. A candle-light vigil will also be held in support for the recent victims of crime. A 17-year-old from Glenroy has been charged with attempted murder in connection with the attack on Kumar and his friends. Another student Baljinder Singh, stabbed by two attackers early this week, has been discharged from hospital.
An Indian community leader has revealed that there have been at least 20 incidents of "racial assaults" in Sydney in the past month, but most attacks on Indian students went unreported out of fear. Yadu Singh, a cardiologist, said violent attacks against Indian people are on the rise in Sydney.
The Sydney Morning Herald quoted Singh as saying that there had been more than 100 attacks on Indian students in the past 12 months.According to him, many Indian students feared that lodging a formal report to the police would harm their chances of permanent residency. Meanwhile, under fire over the spate of racial attacks on Indian students, Australia today scrambled to salvage its image as a "safe" destination for education for foreigners. Deputy Prime Minister and Education Minister Julia Gillard, said Australia, where over 4 lakh international students are based, "overwhelmingly is a safe country." "But I have recognised as minister for education that we need to do more to ensure that students who come to study in Australia from overseas are safe," she was quoted as saying by 'Radio Australia.' — PTI
Big B wants to turn down honour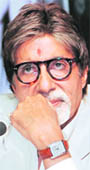 Mumbai, May 30
Actor Amitabh Bachchan is in a dilemma over accepting an honorary doctorate offered to him by Queensland University of Technology, Brisbane, Australia. The actor wants to decline the honour to protest the attack on people of Indian origin in that country. "My conscience does not permit me to accept this decoration from a country that perpetrates such indignity to my fellow countrymen," he write in his blog. However, the actor has not turned down the doctorate as yet. In his blog Bachchan writes that he would go by public opinion on the matter. — TNS
Don't come to Australia, says victim
Melbourne, May 30
Fresh from surviving a murderous attack, a 25-year-old Indian student today appealed to fellow countrymen aspiring to pursue education in Australia that they should not come here. "My advice to every Indian student now who wants to come to Australia is please don't come and there's no life here," said Baljinder Singh, who was attacked by two youths here recently. — PTI