ART & LITERATURE
'ART & SOUL
ENTERTAINMENT
TELEVISION
GARDEN LIFE
NATURE
FOOD TALK
CONSUMER, BEWARE!
FASHION
HOLLYWOOD HUES
BRIDGE
ULTA-PULTA
EARLIER FEATURE
TRAVEL
RELATIONSHIPS
DREAM THEME
TIME OFF
Arpana Caur's extensive folk and tribal art collection gives a closer look into her special regard for the folk arts of India, their influence on her own self-expression, and some of the challenges affecting their appreciation and evolution in our times. The Magic Makers catalogues this eminent artist's treasure. Excerpts: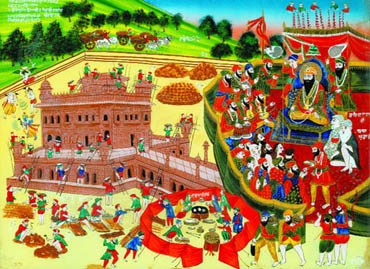 A live tradition, vibrant and deep rooted in people's blood, folk art reveals a massive variety of form and theme. Her 10-12 thousand-year-old creative culture and a wide-spread art geography apart, India has hundreds of ethnic groups scattered from north to south and east to west, each with its own art form representing its taste, needs, aspirations, aims, joys, sorrows and struggles. Regional peculiarities, nature around and a different pattern of day-today life apart, their art reveals each group's ethnic distinction and creative talent. Not in the 'word', these primitive peoples discovered in the 'form' their diction which gave expression to their joy, jubilation and intrinsic warmth and announced their rejection of violence, eroticism and ugly.
They work, but are neglected
Though tribal women of Orissa have done better in politics than their counterparts from the general castes, they are given a raw deal at the time of ticket allotment. Political parties need to do a re-think on their ticket distribution strategy, writes Manipadma Jena
FOR a decade, Mukta Jhodia (49), hitching a ride on her husband's bicycle, would go into remote tribal villages of Kashipur in Orissa's Rayagada district to dissuade people from giving up their farmland for bauxite mining. Mukta received the Chingari Award instituted for women fighting corporate crime.
Vignettes from Swat Valley
The Swat Valley in Pakistan has been in the news for all the wrong reasons — terrorism, violence, refugees' exodus, starvation and the lot. But in the beginning of the 20th century this mini Switzerland of Pakistan was known for its natural beauty and chukor hunting, recalls Lieut-Gen Baljit Singh (retd)
THE Swat Valley acquired the sobriquet "Paris of Baltistan" in the first quarter of the 20th century. But for the outdoors sportsmen the valley's charms lay elsewhere. First and foremost was its incomparable natural setting, in comparative easy reach and secondly, for its well-earned reputation for providing the cream of chukor hunting in Asia.
Art on hire
Dhananjaya Bhat on how one can rent masterpieces for home and office
WITH the fall in prices of paintings by India's master artists, a new market has opened up. Now you can hire paintings for your office or home on a monthly basis. This hiring of painting for offices and homes is a recent phenomenon in India dating barely two years.
T-shirt for all times
If you use a bit of your imagination, a T-shirt can be one of the most versatile
commodities in your wardrobe, says Pheroze Khareghat
OVER the years, wearing a T-shirt has become the acme of informality. In fact in the US many psychologists suggest that managements should wear T-shirts to discussion meetings with labour unions so that an air informality and easy conviviality prevails.
And now, Tagore cuisine
A writer, poet and musician, Nobel laureate Rabindranath Tagore was a diehard food lover too. Recently in the Viswa Bharati archives, some menus were discovered that he had collected from international events. Thus was born a café-cum-restaurant in Kolkata, exclusively dedicated to Tagore's favourite dishes, writes Sreya Basu
MANY are familiar with Nobel laureate Rabindranath Tagore's literary works and songs, but ever thought of tasting the Gurudev's favourite dishes? Now Kolkata can boast of a cafeteria-cum-restaurant, Caf`E9 Th`E9, where people can get a taste of Tagore's culinary indulgences.
Rise of the phoenix
THE 80-year-old sandstone lamppost near Rashtrapati Bhavan that collapsed in a squall recently will be restored soon.
The power formula
Political issues have been used repeatedly as a theme by film-makers
down the years, writes M.L. Dhawan
Politics has always provided food for thought to Indian film-makers. Surprisingly, this topic never fails to entice the audience. India is the world's largest democracy; it is not surprising that politics appears as a subject frequently in our Hindi films. Prickly political issues prompt the film-makers to present their point of view in films.
Riding the Slumdog wave
Indian films' sales pitch was at its peak at Cannes this year, writes Saibal Chatterjee
WITH Slumdog Millionaire having made waves on the global scene, Indian movie themes and film-makers reaped the benefits in the international sales and co-productions arena at the recent Cannes Film Market.
Big B's big ambition
Bollywood megastar Amitabh Bachchan, whose antipathy towards the media is well known, has said he "would like to be a journalist". "I would like to be a journalist.