Art on hire
Dhananjaya Bhat on how one can rent masterpieces for home and office

WITH the fall in prices of paintings by India's master artists, a new market has opened up. Now you can hire paintings for your office or home on a monthly basis.
This hiring of painting for offices and homes is a recent phenomenon in India dating barely two years.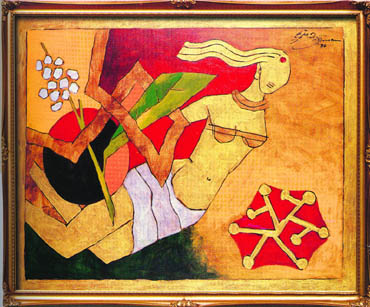 When rented, an M. F. Husain painting has to be
fully insured for a one-time payment of about
2 per cent of its value

The economy-psychology behind such hiring is obvious. This gives flexibility to regularly switch the artworks on your walls as there is no need to purchase and then be stuck with the same tired artwork for years. Apart from this this is cashflow friendly, with no up-front art purchase costs.
Art rental is tax efficient as payments are offset against business revenue and have no tax liability (compared with being a capital outlay when buying artwork), are easier to budget and renting avoids the ongoing depreciation costs of art.
The rentals are between Rs 500 and 5,000 per month depending upon the size of the work, the artist and the period for which it has been hired.
As yet there are only a handful of firms — just two in Delhi and the rest in other metros like Mumbai, Chennai and Bangalore. The Art Bank, set up four months ago by curator Adeshwar Puri in New Delhi, allows companies and individuals to rent paintings, including "master works", for three months to a year.
It is perfect for those companies that want to project a creative, sophisticated image, but whose executives' knowledge of art may be limited or who cannot afford to buy works from eminent artists.
Puri says he has 1,000 paintings — including works by approximately 100 Indian artists — which run the gamut from classic to contemporary, conservative to shocking. Currently, the Art Bank's collection comprises 25 per cent up-and-coming artists, 50 per cent middle-level artists, and 25 per cent famous artists, including names such as Maqbool Fida Husain. In addition to paintings, the Art Bank also offers photo prints, sculptures and functional pieces such as furniture at reasonable rates.
Art gallery owner Paresh Mistry has as his clients the elite of Bombay — ranging from businessmen to kitty-party hosting ''ladies who lunch'' — wanting to get a piece of art history adorning their pads and knows that his charges can be high and in any way the "renters would mark it off against their tax returns."
" Per week of hire, I charge roughly 10 per cent of the cost of the painting plus a deposit, as my insurance policy doesn't cover the painting while not in my possession," informs Paresh.
Taking a masterpiece on hire is relatively simple as the gallery proprietor, who is experienced to understand the needs of the client shows examples of artwork and helps the client determine the suitable locations for placing the artwork. Experts give suggestions taking into account the size, shape, lighting and colour of each room in the home or office where the artwork has to be put. For one of the smaller conference rooms in an office, he may suggest using just one simple medium-sized painting, so that it does not distract those in a meeting.
In the reception area, it could be a series of smaller paintings. According to him, small art pieces would be necessary, because the distance between the lounge chairs and the wall will not be enough, to view a larger piece. "Vivid hues would look great against the bright walls."
The paintings can come in a variety of sizes, and because a client can switch display every few months, the space can be refreshed.
To hire paintings for the above three areas it should cost Rs 10,000 per month. Generally, prices per painting range from Rs 500 per month for the work of up-and-coming artists to Rs 5,000 per month for a famous name such as a Husain.
The paintings are graded and the rental price is determined by the availability of work with the collector. And of course, the greater the artist the more expensive it is to rent his works. The lowest price for three months is Rs 500.
The A-grade list consists of Raza, Souza, Husain and Choudhary while emerging artists like Ramesh Rana and Kusum Jain fall into the B-category. Then there are the artists whose works are priced at under a lakh. The artist gets 20 per cent on each package.
As for maintenance, the client has to make arrangements with the gallery to regularly come and clean the painting and even take an insurance policy to cover losses in case of a fire or theft. For example, a Husain painting can be fully insured for a one-time payment of about 2 per cent of its value.
The artworks are delivered and installed by the professional team provided by the gallery. And generally the artworks are rotated every 6, 12 or 24 months, or a different frequency as per the client's choice. The 'Rent a Painting' adds diversity to the booming Rs 60 billion art market in India, dominated by corporate buyers, investors, galleries and private collectors. —MF