M A I N N E W S
Advani is Leader of Opposition
Aditi Tandon
Tribune News Service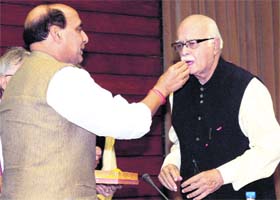 BJP president Rajnath Singh offers sweets to LK Advani after being re-elected leader of Opposition in Lok Sabha in New Delhi on Sunday. — Tribune photo
New Delhi, May 31
The BJP today elected Lal Krishna Advani as the Leader of the Parliamentary Party in the Lok Sabha and said it would play the role of a constructive opposition and stand with the government whenever national interest so demands.
Authorised to select deputy leader of the BJP in the Lok Sabha and leader of the party in the Rajya Sabha, Advani accepted the recent electoral losses of the BJP and said the verdict had placed a responsibility on the party.
"The BJP leadership has begun serious introspection, analysis and corrective action. No factor will be overlooked. We have to see why our performance was poor in Rajasthan, UP, Delhi, Haryana, Uttarakhand and Orissa and why we won less than the expected numbers in Gujarat, Madhya Pradesh and Maharashtra. Besides, we have to chalk out a plan to expand our support base in Andhra Pradesh, Tamil Nadu, Kerala and West Bengal in the coming five years," said Advani.
The BJP, which is likely to settle for the names of Jaswant Singh as deputy Speaker (after the PM today called up Advani and offered the post to the BJP, being principal opposition party), Sushma Swaraj as deputy leader in the LS and Venkaiah Naidu as leader of the Rajya Sabha, today termed the 15th LS mandate as the rejection of Left and the Third Front. It said it now had full opposition space in the lower house, which it would use well to voice people's aspirations.
"This mandate for bipolarity has opened up new opportunities for us. The Left parties have been marginalised. As a result, the people have assigned almost the entire opposition space in the Parliament to the BJP and its allies in the NDA. We will make full use of this opportunity," said Advani, calling upon the UPA to discharge its duties.
The BJP also said the Third Front's squeeze benefited the Congress, as the BJP did not have a strong base in states like West Bengal, Andhra Pradesh, Tamil Nadu and Kerala, which between them have 143 Lok Sabha seats.
Meeting on the eve of the first session of 15th Lok Sabha, the Parliamentary party members also resolved to follow their "nation first" policy in the House. BJP has 116 members in the new Lok Sabha.