Woes from the Oz
For most Indian students living in Australia, life has almost come to a standstill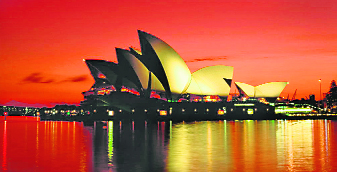 The phone is ringing constantly for the last three days, every half-an-hour I get a message reading, 'Are you alright, why are you not calling back?' The moment I step out of the house a million instructions like 'don't go too far or come back before nightfall' follow," Prabhsiman Singh, a hospitality student in Melbourne spells out how his life has taken a turn after the recent attacks on Indian students. Aryan Sharma, another student has not attended his classes for the past three days and has attended eight how-are-you-doing calls since morning.
Model moves
Ramp models Sonalika Sahay and Tina Chatwal share views on their personal and professional lives
I don't mind tall actors, who can do justice to the ramp walk pitching in to popularise a designer's collection," just when Sonalika Sahay, a leading international model voiced her opinion, a strong objection came from another popular face on the ramp, Tina Chatwal, "I feel Bollywood celebs should stay away from the ramp, it surely isn't their forte." Similar profession and lifestyle do not necessarily mean similar opinions! If in the modeling world we have friends like Amanpreet Wahi and Krishna Somani who think alike (we realised it on Saturday), we also have Sonalika and Tina, the pals who prefer to speak their starkly different minds.
Sunny side up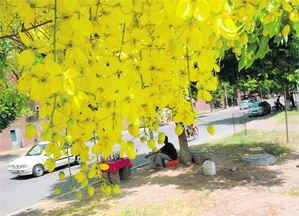 A blooming amaltas tree adds a dash of colour to the cityscape. Lifestyle photo: Parvesh Chauhan

Salaam sahib
With flowing mustache and no-nonsense attitude, they may look a little too overpowering. But beneath that tough exterior of darbaans lies a heart of gold. Read on…
A car draws to a halt in front of Hotel Mountview, and a family of four comes out, bags and baggage in tow. Red from the sweltering heat, the four firangs walk towards to the entrance to be greeted by a pleasant looking Hem Singh Thakur with long 'attractive' moustaches. Hello. Smiles. Hello. Smiles. Hello. Smiles Hello. He then steps ahead to take their luggage. It's okay, the firang gentleman says. We can manage. Give sir, Hem Singh politely and cheerfully takes the luggage from them. Thank you, says the family as they march towards the reception.
A lyrical journey
Sach ko sach kehne ki bas meine khayi hai kasam/ Varna shehar mein rehte hain shayar aur bhi — That is how eminent Hindi poet and litterateur Madhav Kaushik introduces himself. He stands out for his resolution to adhere to the purity of thought and truthful expressions in his literary creations.
Brit? Kinda cute!
Socialite Kim Kardashian has revealed that she is a big fan of British men. The reality TV star and Playboy pin-up says she finds them 'cute'. "I love it in the UK. I love the accent and there are definitely some cute men," she was quoted as saying. Meanwhile, the 28-year-old beauty, who's been dating American footballer Reggie Bush for the past four years, is in no hurry to get hitched. "I've been with Reggie for two years and he's definitely the man for me, he's everything I would want in a man," she said.
Launch PAD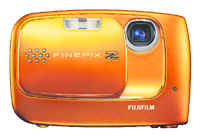 Glam cam
Fujifilm India Pvt. Ltd has announced the availability of its latest digital camera, FinePix Z30, in India. With its new chic chassis form factor, the FinePix Z30 is sleeker than its predecessors, the Z10 and Z100. The Z30 also includes an innovative SR Auto (automatic scene recognition) feature that enables the camera to recognise subjects, scenes and faces automatically resulting in great pictures every time.
Who's that woman?
Keanu Reeves has slammed a Canadian woman, who is seeking millions of dollars in a lawsuit filed against the actor. Karen Sala alleges that she's a childhood friend with the Matrix star, who she claims he is the father of her four kids.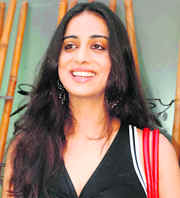 Juicy details
A glass of gourd juice keeps her complexion glowing
Just two films old in the industry, Mahi Gill is busy listening to scripts through out the day. Besides quite a few Bollywood projects, the Paro of Dev D has lapped up an international film too. Between the long hours of shoots and unending narration sessions, she takes out time for a walk or some gymming. The actor further shares the secret of her keeping fit. Fitness mantra: I am very fitness conscious but don't believe in dieting at all. There is a stark difference between staying fit and being anorexic and I feel, dieting leads to the latter. Key to fitness is a balanced diet, regular exercise and gym.
BODY wise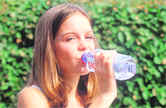 Killer drink
Can drinking a lot of water be bad?
Yes, but only if you drink it in huge amounts. Known as 'water intoxication' or hyponatremia (low salt), water poisoning results when too much water is ingested in too short a time; without replenishing electrolytes, particularly sodium and potassium.
Just like mom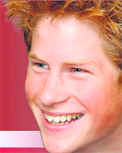 Twenty years and four months after his mother had New Yorkers in ruptures during a royal visit, Prince Harry, too captured the fancy of the city's residents. His visit mainly focused on charity and a commemoration of the Sept. 11 attacks. It was described as a somber visit, clearly designed to modify the prince's tabloid reputation as a party hopper with a penchant for blunders. Prince Harry laid a wreath at the site of the World Trade Center within hours of his arrival from London on Friday. He also spoke to firefighters and relatives of 9/11 victims and looked over blueprints for the site's reconstruction. A memorial to the 67 British people killed at the WTC was dedicated in the British Garden at Hanover Square, where he planted the magnolia and attended a private meeting with victims' families.
Food for thought
Factors other than parental habits such as community and school, television viewing and self-esteem play an important role in young people's dietary intake
Researchers at the Johns Hopkins Bloomberg School of Public Health say that the suggestion that parents' dietary choices have a significant influence on children's eating habits may need rethinking. Their challenge to the age-old belief is based on an examination of dietary intakes and patterns among US families, which found that the resemblance between children's and their parents' eating habits was weak.
Moi Cherry
Cherry juice is the hottest new sports drink that helps ease the pain for runners, a new study says. The study showed that people who drank tart cherry juice while training for a long distance run reported significantly less pain after exercise than those who didn't. Sixty healthy adults aged 18-50 years, who drank 10.5 ounces cherry juice twice daily for seven days prior to and on the day of a long-distance relay, had significantly less muscle pain after the race than those who drank another fruit juice beverage.
Bottled sunshine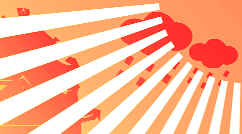 Vitamin D can help you protect against cancer, heart disease, diabetes and multiple sclorisis. Taking supplements of vitamin D could reduce the incidence of breast cancer by a quarter and bowel cancer by a third, say scientists. What's more, the vitamin, sometimes called 'bottled sunshine', should be offered to the population as part of a public health drive, the boffins suggested.