HC tells states, UT to form monitoring panels
Ambala, June 1
In a significant order, the Bench of Chief Justice TS Thakur and Justice Surya Kant of the Punjab and Haryana High Court has directed the states of Punjab, Haryana and Union Territory of Chandigarh to constitute state-level monitoring committees to be headed by their respective Chief Secretary and/or Adviser for waste management and sewerage treatment.
Health dept goes tough on violators
Ambala, June 1
In its drive to curb the practice of smoking at public place, the health department has fined 666 persons throughout the state and recovered Rs 45,170 from them ever since the imposition of anti-tobacco laws.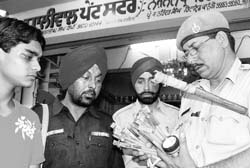 3 held under Wildlife Act
Kharar, June 1
Three persons were arrested with around 80 paintbrushes made of mongoose hair from various traders here today.





Police officials examine paintbrushes made from mongoose hair that were seized at Kharar on Monday. Tribune photo: Vicky Gharu
18 arrested for gambling
Rajpura, June 1
The police today arrested 18 gamblers from different places of Rajpura during a special raid conducted on the directions of Patiala SSP Arpit Shukla.
DC seeks Rs 12 crore from govt
Patiala, June 1
In order to tackle various problems that arise during flood, Patiala Deputy Commissioner Deepinder Singh has demanded Rs 12 crore from the state government here today.
Unhygienic Food
Civil surgeon inspects shops
Patiala, June 1
Civil surgeon Kuldep Kaur, under whose leadership a team has been constituted by the Deputy Commissioner, today inspected various shops and stalls selling unhygienic food and destroyed over-ripe and unhygienic food on the spot.
30 selected in talent hunt fest
Patiala, June 1
National Theatre Arts Society (NTAS), Patiala, during its 24th annual Prithvi Raj Kapur talent hunt festival 09, has selected 30 aspirants from various educational institutions.
Tennis academy's registration open
Patiala, June 1
Punjabi University Tennis Academy registration has opened here today. Dr Raj Kumar Sharma, director, sports department, said after the inauguration of the tennis courts, registration of the players for the academy had opened.
Sukhdev is BKU chief
Fatehgarh Sahib, June 1
Sukhdev Singh was elected as district president of BKU (Ekta) yesterday at a district-level meeting held at Fatehgarh Sahib.
Tobacco claims 8 lakh lives every year: Survey
Fatehgarh Sahib, June 1
The district health authorities held a seminar to mark World No Tobacco Day today. In her key address, civil surgeon Dr Satwant Kaur Bhalla said tobacco continues to claim many innocent lives. "As per an estimate, around 54 lakh people die every year due to tobacco consumption in the world. In India, this figure is 8 lakh," she said.
7 food samples collected
Bassi Pathana, June 1
As part of its anti-adulteration drive, a team of the health department led by Dr Jagpal Singh, district health officer, collected seven samples of food items milk, curd, cheese, cold drinks, sharbat, etc. from various shops here today.


4 designated as senior advocates
Chandigarh, June 1
The Punjab and Haryana High Court has designated four advocates as seniors. Advocates Neeraj Kumar Jain, Sanjeev Sharma, Kishmiri Lal Goyal and Mandeep Singh Bedi have been designated seniors with effect from May 29, by Chief Justice Tirath Singh Thakur and Judges of the high court.
Morning Shatabdi
Lawyers for change in timings
Chandigarh, June 1
As many as 60 advocates of the city, led by HC Arora, RS Bains, Baldev Mahajan, Pawan Kumar Gupta and Vikram Bajaj, today sent a representation to Union Railway Minister Mamata Banerjee to pre-pone the departure of the morning Shatabdi from Chandigarh for New Delhi by half an hour so that this train reaches New Delhi before 10 am.
Hotel to cough up Rs 2,500
Chandigarh, June 1
The District Consumer Disputes Redressal Forum has directed Jullundhur Hotel and Restaurant in Sector 22 to pay compensation of Rs 2,500 to the complainant for wrongly swiping credit card twice.


Five arrested
Panchkula, June 1
The police has arrested five persons while planning to loot a petrol station at Pinjore late last night.
Snake charmer held
Chandigarh, June 1
The Chandigarh Police arrested a snake charmer for violating the provision of the Wildlife Act and seized a cobra from his possession here tonight from the jungle area near lake.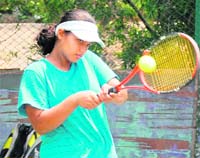 Digvijay routs Dahiya
Chandigarh, June 1
Top seed Digvijay Singh Mehta of Himachal Pradesh had a smooth sailing into the second round by beating qualifier Sunny Dahiya 6-3, 6-1 in the AITA Championship Series Tennis Tournament at the CLTA Sports Complex here today.



A match in progress at the CLTA Sports Complex in Chandigarh on Monday. A Tribune photograph

Msubodh defeats Gagan to move ahead
Chandigarh, June 1
Msubodh Lahiri defeated Gagan Makkar by 100-69, 100-42 in the senior billiards category to enter the second round of the 25th Chandigarh Billiards and Snooker Championship held at Sector 22.



A player aims a shot during the 25th Chandigarh Billiards and Snooker Championship at Sector 22 in Chandigarh. Tribune photo: Pradeep Tewari
MCM Blue Caps beat Bharti Vij academy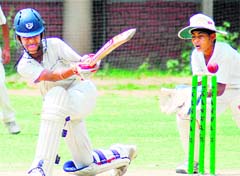 Chandigarh, June 1
In an exciting match, MCM Blue Caps managed to beat the Bharti Vij Cricket Academy by 5 runs here today during the U-14 APJ Cricket Cup held in MCM DAV, Sector 36.






Players in action during a cricket match between MCM Blue Caps and Bharti Vij Cricket Academy in Chandigarh. A Tribune photograph
TT calendar released
Chandigarh, June 1
Prof RS Mehta Memorial Open Table Tennis will be organised by the Chandigarh Table Tennis Association from August 21 to 23. Giving this information here today, CTTA secretary Patanjli Kumar said players from Punjab, Haryana, Himachal, Jammu and Kashmir, Delhi and Chandigarh were eligible to take part.
Five teams confirm participation
Chandigarh, June 1
Five teams have confirmed their participation for the forthcoming Under-10 Inter-Academy Cricket Tournament for St Stephen's Trophy being organised by Desh Prem Aznto two pools.