Day One in the 15th Lok Sabha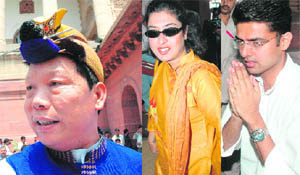 Takam Sanjay
(Arunachal Pradesh)

Shatabdi Roy
Trinamool Congress, West Bengal
Sachin Pilot
Congress, Rajasthan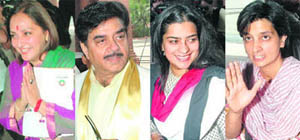 Jaya Prada
Samajwadi Party, Uttar Pradesh
Shatrughan Sinha
BJP, Bihar
Shruti Chaudhary
Congress, Haryana
Jyoti Mirdha
Congress, Rajasthan
The newly elected MPs arrive at Parliament House on Monday. The session began with the swearing-in of the members. Tribune photos: Mukesh Aggarwal
AIIMS staffer, two others held for 'paper leak'
Ghaziabad, June 1
An AIIMS woman staffer and two girls have been detained after the police allegedly recovered a set of question papers suspected to be that of AIIMS entrance test from them, the police said today.
LS all ready for Madam Speaker
Looks for gender-neutral terms to address the chair
New Delhi, June 1
With Meira Kumar, the first woman Speaker of the Lok Sabha waiting in the wings, the lower house appears caught in a dilemma- how to address the chair, hitherto referred to as "Mr Speaker, Sir."
Now, Sonia to focus on party matters
New Delhi, June 1
Having completed the painstaking task of government formation, Congress president Sonia Gandhi today said she will now turn her attention to party organisation matters.
Bihar Cong to take action against 'erring' members
Patna, June 1
The Bihar unit of the Congress today initiated the process of disciplinary action against leaders alleged to be involved in anti-party activities during the just-concluded Lok Sabha polls.The Bihar Pradesh Congress Committee has constituted a five-member committee to probe into the allegations that some party candidates campaigned against the official nominees during the general polls.
Advani meets RSS chief
New Delhi, June 1
BJP leader LK Advani today met RSS chief Mohan Bhagwat and discussed the reasons behind the party's defeat in the Lok Sabha elections and strategies for its revival.
Shillong jailbreak: One shot, 3 recaptured
Guwahati, June 1
In a swift operation, the Meghalaya police shot dead the kingpin of yesterday's sensational Shillong jailbreak incident, Fullmoon Dhar, a dreaded criminal, and captured three others during an operation inside thick forest in Jaintia Hill district today.
Mumbai Near-miss
Jet pilot given clean chit
Mumbai, June 1
Officials of the Directorate General of Civil Aviation today began investigating the near collision of aircraft belonging to Jet Airways and Air India on Sunday morning.
Air India contract workers go on strike
New Delhi, June 1
Demanding better pay package and medical benefits, nearly 300 contractual security and commercial workers of Air India boycotted work today and staged a demonstration at the Indira Gandhi International Airport here.
Pilot Training
HAL, Canadian firm joins hands
Bangalore, June 1
The foundation stone for a new helicopter pilot training centre - Helicopter Academy to Train by Simulation of Flying (Hatsoff for short), was laid in Bangalore on Monday. A 50:50 joint venture between Hindustan Aeronautics Ltd (HAL) and Canadian-based simulation leader CAE, the centre is scheduled to be operational by the middle of next year.
Burney takes up plight of another Indian prisoner
New Delhi, June 1
After getting Kashmir Singh, who spent nearly 35 years in a Pakistani jail, released, Human Rights activist Ansar Burney has highlighted the case of another Indian, Gopal Das, who is languishing in a Lahore jail for the past 23 years.
35 killed as bus falls into Chambal bed
Jaipur, June 1
Thirty-five persons were killed and 10 injured when a bus carrying them fell into dry riverbed of Chambal in Dholpur district of the state near Madhya Pradesh border today. Dholpur collector PC Kishan said, "Twenty seven bodies have been taken out till now while the injured have been admitted to the nearby hospitals. Those critically injured have been referred to SMS Hospital, Jaipur."