M A I N N E W S
Bagful of b'day gifts for Karuna
N Ravikumar
Tribune News Service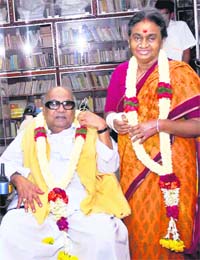 DMK supremo M Karunanidhi after being felicitated on his 86th birthday with his wife Dhayalu Amaal in Chennai on Wednesday. — PTI
Chennai, June 3
The scene at "Anna Arivaalayam", the DMK headquarters, resembles that of a royal court, as party functionaries and cadres, wait in long queues to present their gifts to party leader and Tamil Nadu Chief Minister M Karunanidhi who is celebrating his 86th birthday today.
A district secretary of the party, Karuppasamy Pandian, presents a gold chain weighing 86 grams. Deputy Chief Minister Stalin, receives the gift and shows it to the leader. Another functionary belonging to the youth wing, presents a silver sword to Karunanidhi.
A crown of currency notes follows, with former Minister K Pichaandi, offering it to the leader. He also presents a sword and a shield. Another functionary comes with an elaborately decorated silver umbrella, one which was used by the ancient Tamil monarchs.
He also signals his men to bring utensils like plates, tumblers and bowels, usually given to a bride, after marriage. The full set has 86 utensils corresponding to the octogenarian leader's age.
There are many who cannot afford to present such valuable gifts. A party worker was seen carrying a gold ring, but when asked he said it was a gold-coated one. There are farmers, who bring big jackfruits, cultivated in their gardens. Some carry big bunches of plantains and others mangoes, in large plates. "Our gifts are more precious than gold and silver," a farmer said, adding that a lot of hard work goes into rearing fruits. Then there are cadres, who bring rare flowers, bouquets, greeting cards with their own verses and garlands.
Meanwhile, the party functionaries were in a jubilant mood, especially after the DMK's triumph in the Lok Sabha elections, Cabinet berth to Karunanidhi's elder son Azhagiri and elevation of younger Stalin as the deputy Chief Minister, has only added to their joy. When a functionary was asked how he felt about the celebrations, he said, "We are used to this kind of celebrations. During the eighties, when the party suffered a string of defeats at the hands of AIADMK founder MGR, the birthday functions of our leader proved to be very helpful as they gave an opportunity to the party cadres to come together. Also, much needed funds were generated during the events. The gifts would be sold and the money would be transferred to the DMK trust."