Gota in the gown
Indian designs have been making quite a wave on international ramps and red carpets recently. Here're some desi styles that're going global…
Fashion. The word itself leaves us with a multi-hued image of fabrics, colours, embellishments, silhouettes and pretty faces. But more to this global picture of prêt style is the spiralling Indian image of a trendsetter. And as the rest of the world emulates the Indian version, it's our desi designs and patterns that have come a long way and are now part of the macro level designs that are making a worldwide fashion impact.
| | | |
| --- | --- | --- |
| Former Miss France Rachel Legrain-Trapani in an Indian style mirror- embossed fuschia dress. | A model displays the latest collection of UK-based Indian designer Riaz Gangi during a fashion show as part of Bahrian Fashion Week in the Bahraini capital of Manama. | French singer Loana sports a sequin-and-zari- embellished golden gown on the Cannes red carpet |
Replicating history
Thanks to the latest initiative of the Government Museum and art Gallery, it is now possible to own a piece of Gandhara or Agroha sculpture, even if it is only a replica
This is regardless of your understanding of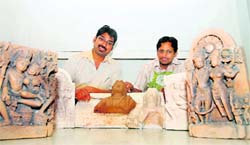 art; it is always surrounded by certain specific limitations. And the one that an artist has to face almost all the time, is creating a replica of a masterpiece, which already occupies a substantial place in time and history. Vishal Bhatnagar and Rajender Kumar, art resourcers with the Government Museum Art Gallery-10, have also tried to match up to the perfection level in existing art.
TWO IS COMPANY: Vishal Bhatnagar and Rajender Kumar
How'z that for a treat?
Watch, eat and drink cricket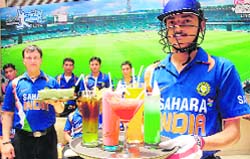 How often do you 'desperately' want a breather from work? More or less, always! Now, let's apply the same to the most-read, written, talked, debated, criticised, commercial sport — cricket. Would you want a break from it? We don't see many people nod in their approval. So, here it comes again. After the IPL, it's now time to get ready for another cheering, shouting and hooting session with ICC T-20 starting June 5. As expected, we do see a line up of events ready to roll out. How'z That, Zinc Cricket Innings at Zinc, behind Noodle Bar-26 offers to be one such happening affair.
— Photo S. Chandan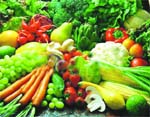 Green march
An internationally acclaimed event that was founded by the UN general assembly in 1972 has inspired many to celebrate June 5 as World Environment Day. And taking the green cause ahead are these groups...




Take care



In today's world, the appearance counts. In fact, a large number of career avenues have opened up in the recent times where an attractive appearance is a decided advantage. A well-groomed and attractive appearance actually boosts self-confidence, a very essential quality in today's competitive career world. Looking after the appearance entails regular skin and hair care, exercise, relaxation and tending to small details like paying attention to the hands and feet.

Gliding effect
A special disposable bikini razor Glide has been launched in the city Radiohms Agency Limited (RAL). The product will be marketed in association with the 125 years old American Safety Razor Co. Ltd., USA third largest razor company.

The secret to happiness Unveiled


Laws of attraction determine the course of your life
Ever wondered why some people are happy, satisfied and successful in life while others are sullen, disgruntled and abortive. Well, the secret seems to be in the laws of attraction, which simply say that you attract in your life whatever you think about. Your dominant thoughts will find a way to manifest. Blondes are more likely to have their romantic hopes crushed than their dark-haired friends
They are known for having most fun - but when it comes to first dates, blondes are more likely to have their romantic hopes crushed than their dark-haired friends, a poll has found. According to the study of 1,300 people, by Internet dating firm Parship.co.uk, flaxen-haired hopefuls are a quarter more likely to have their dreams of true love shattered within hours of meeting a new man than a brunette or redhead.

Online overload
Constant emails, news alerts, and Twitter updates are overloading the human brain and making people's responses dismissive, says new research. The deluge of information from 24-hour news, mobile phones and social networking sites moves too fast for the brain's 'moral compass' to process.

Monster in laws?
MILs top reason for Malaysian Indian divorces
Bad relationships with their mothers-in-law ranked as the top reason for divorce among ethnic Indians, and one of the main reasons given by divorced ethnic Chinese and Malay couples in Malaysia, a government study revealed.

Relatively speaking
Workshops: Fun or fad? I'll be back in Mumbai to make another film: Danny Boyle
British director Danny Boyle, who filmed his multiple Oscar-winning Slumdog Millionaire in Mumbai, says he misses the city when he is away and that he is coming here next year to shoot another movie. "We've had a couple of meetings about another project in Mumbai. It won't happen this year. But it will certainly happen next year. I will certainly enjoy coming back to Mumbai to make another film," Boyle said. The director was was in Mumbai to ensure that Slumdog Millionaire kids Rubina Ali and Azharuddin Mohammed Ismail get the houses promised to them by the producers of the film.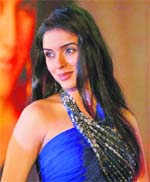 Role call
I'll do Tamil films if offered good script: Asin
After the Ghajini success, southern actor Asin Thottumkal is concentrating on Bollywood films but says she won't mind doing Tamil movies if she gets a challenging role to play. "I would start shooting on the same day when someone will narrate a challenging and substantial script to me," said Asin, who also featured in the Tamil version of Ghajini, said in Chennai on Tuesday at a press meet.

The actor, who is the brand ambassador of Tata-Sky DTH, was in town to honour the winner of an on-line game competition conducted by the company.

Shoot at site
Film producers condemn attacks on Indians in Oz, saying it could impact shootings of flicks
Condemning the attacks on Indians in Australia, a top body of film producers has warned that such incidents may affect shootings of films Down Under.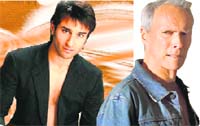 Credit it to Clint
Clint Eastwood inspired Saif to turn producer
Bollywood star Saif Ali Khan, who is ready with his debut production venture Love Aaj Kal, was inspired by Hollywood actor Clint Eastwood to get into the business of making movies. Saif is a huge fan of the Hollywood legend and is quite fascinated by his work.
Covering note

The dupatta shields these two girls on a mid-summer noon in Panjab University.
Lifestyle Photo: S Chandan

Brand aid

Actor and IIFA brand ambassador Amitabh Bachchan speaks at an IIFA press conference in Gurgaon on Tuesday. PTI photo
She Can(nes) forget it!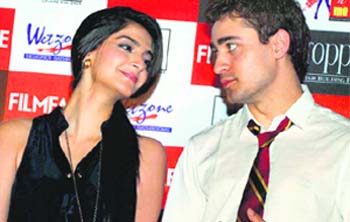 Actors Sonam Kapoor and Imran Khan at a Filmfare event in Mumbai on Tuesday. PTI Photo