On track to prosperity
While traders oppose rail line to Katra, property prices jump in anticipation of the good times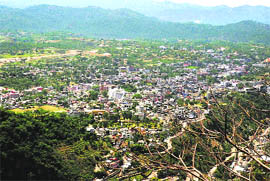 WHILE extension of the rail line to Katra town — base of the revered Mata Vaishno Devi Shrine — has been vociferously opposed by Jammu-based transporters and traders, prices of commercial and residential property is witnessing an upswing. Buying land around the railway station and other parts of the township seems to be the best idea in Katra these days.

A view of Katra town. — Photo Anand Sharma
TREND MILL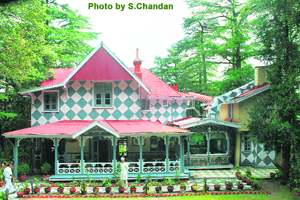 A house in the hills
As Shimla loses its preferred-destination tag, small villages and towns en route to the Queen of the Hills are turning into fashionable addresses. Choose from flats, luxury apartments and penthouses - there is one for every budget!
HILLS along the road to Shimla are fast turning into happy hunting grounds for nature lovers chasing dreams of buying summer vacation cottages, even flats.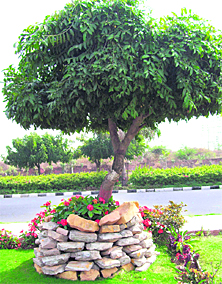 GREEN HOUSE
For a green future
Just planting a sapling does not mean the environment is taken care of. It is the aftercare that matters. SATISH NARULA lists some dos and don'ts of urban planting
Scorching heat, dust, glare, polluted air, noise and ugly surroundings can be a cruel test of human physical and mental endurance. Growing trees is the cheapest and one of the most effective methods of bringing about improvement in our physical environment
Environment Day has just gone by. It is not a big deal to plant a tree. What matters most is the aftercare, saving it from vagaries of weather, insect, pests, diseases, animals and human beings. Many people are now environment conscious but it is a must to learn and follow the practices of saving plants the right way.
Greening urban habitat
THE degradation and degeneration of our cities and towns has attained shocking proportions for lack of effective green cover. Most highly populated urban areas are treeless and bare. The scorching heat, dust, glare, polluted air, noise and ugly surroundings in which people are living and working is a cruel test of their physical and mental endurance. Growing of functional trees is absolutely essential and primary.
Tax tips
Without Conveyance Deed,
land title can't be transferred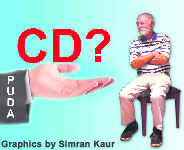 Q. A residential plot was allotted by PUDA to Mr A at Mohali for Rs 6.5 lakh in 2000. The plot was immediately purchased by my father from Mr A and PUDA issued a re-allotment letter in the name of my father. Full payment was made to PUDA and a no dues certificate (NDC) was also issued to my father in the year 2000 itself. Construction was carried out on the said plot in the same year after raising loan from bank but CD could not be executed due to limited availability of funds. He has been residing in the same house since 2001 and the loan has been completely repaid to the bank. PUDA (now GMADA) has suddenly awakened to the reality that most of the allottees have not got a CD done for their plots.