Winners all the way
Junior boxers savour board success after WC medals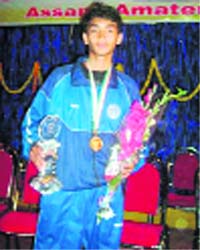 Shiva Thapa from Guwahati won a bronze medal in the World Championship and also cleared his board exams
ITíS twin celebration time for eight 16-year-old junior boxers, who managed Indiaís best-ever medal haul of four at the AIBA World Championships, as they have also cleared their Board exams, for them more frightening than exchanging blows.
The eight-member team, of which Sandeep Singh (46 kg) won a silver and Shiva Thapa (52 kg), Namit Bahadur (50 kg) and Vikas Khatri (54 kg) clinched bronze medals, returned to the country earlier this week.
The team also had Mandeep Jangra (60 kg), Kuldeep (57 kg) and Sumit Sangwan (70 kg), who bowed out by the quarterfinal stage.
"Itís a huge relief to have passed out. Itís near impossible to manage your studies when you have to spend so much time in the ring," said Sandeep, who comes from Bhiwani, a place widely considered the cradle of Indian boxing after the Beijing Olympics.
"I am going home for a few days to celebrate with my parents. I think I will be seeing them after more than three months. Itís such a relief... I am glad to have got through," said Guwahatiís Shiva, who will head to the Army Sports Institute, Pune, after the brief break to resume training for the Asian Junior Championships in September.
The other two bronze medallists, Vikas and Namit, were also heaving a sigh of relief at clearing their board exams after spending a better part of their year inside the ring training in Hisar.
"We spend so much time practising that there is hardly any time for studying so it is relieving that we have got through," said Vikas.
"I will be rushing to get admission in a college."
Education is important, it canít be ignored but yes boxing is first love," added Mandeep, a protege of World Cup bronze medallist Akhil Kumar. India finished an impressive seventh in the championship, while Cuba came third with five medals (two gold, a silver and two bronze) in the event that concluded on May 30 in Yerevan, Armenia. Except for Shiva, who was a gold medallist at last yearís Hyder Aliyev Cup, the entire bunch comprised rookies making their maiden appearance at an international tournament of such repute.
"No doubt it was a wonderful experience but then we couldnít have allowed this to overwhelm us. The Russians, the Cubans, they were all there but it was thrilling not intimidating," recounted Sandeep.
"Frankly, we were surprised at how ordinary the Cubans are. They are too defensive, they hardly ever lower their guard, they donít make many attempts at hitting you. I didnít find them as impressive as they are made out to be. Nothing special about them," Sandeep says.The rest of his teammates agree.
"Itís difficult to get them to lower their guard but otherwise, they do nothing extraordinary," said Vikas.
"The Russians, who won nine medals, were far more impressive. The Cubans ... not as good as we were told they would be," added Shiva. ó PTI