Slice of Himalayas
Though the Great Himalayan National Park, near Kulu, offers various attractions ranging from adventure sports to long treks into the interior, eco tourism has not achieved its potential, writes Jagmeet Y. Ghuman
NOT many have heard of the Great Himalayan National Park (GHNP). A piece of 765 sq km area of land offers a vast range of tourism varieties to those seeking a break from their routine work.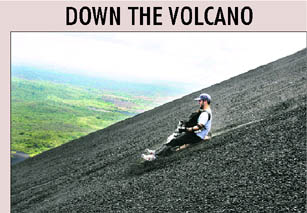 A man slides down the Cerro Negro volcano in Leon City, about 120 km northwest of Managua. The volcano, with a height of 2,264 feet, is one of the most active in Nicaragua. Hundreds of tourists visit the area to "sand-board" down the slopes of the volcano. — Reuters photo
Off the seasoned track
The motto of life today is 'Work hard,
and play hard'. So, in the present times,
even holidaying has become a serious business. There is a holiday to suit every mood, need and pocket, whether it is nature, adventure, cultural, gastronomical or even educational holiday. Sumitra Senapaty
lists some destinations to tempt you off
the beaten track
Divine Devbagh
Most of us dream of escaping to a private island, but presume it's a luxury for the super-rich. Not so as life could be a bargain sometimes, as can be a holiday at Devbagh. Located 100 km away from Goa, Devbagh is a tiny island off Karwar in Karnataka. As a seaside town, Karwar does offer many opportunities for the tourist.
A trip to remember
Movies about characters on the move are about life-altering journeys away from the
self — and towards it, writes Saibal Chatterjee
IS the destination more important, or is it the journey? In the movies, as in life, everything hinges on where a character is headed and how he/she gets there. So travel movies — films that have a physical journey at their narrative heart — have a life and logic of their own.
---

Prem Chopra for Hollywood
AFTER stars like Naseeruddin Shah, Anupam Kher and Anil Kapoor, it is now Bollywood's original villain Prem Chopra who is going the Hollywood way with crossover film Heartland.