Fake Stamp Paper Scam
Accused denied bail
Ludhiana, June 8
The Additional and Sessions Judge Mohd Gulzar today dismissed the anticipatory bail application filed by Ravinder Singh, one of the accused in multi-crore fake stamp paper scam.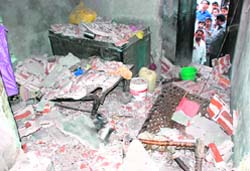 4 injured in roof collapse
Ludhiana, June 8
A two-year-old girl had her left ankle fractured, while three others sustained minor injuries after the roof of a house collapsed at Saida Mohalla Ghatti Guru Ravidas here today. The incident took place in the afternoon when the roof of an old house fell over four people.


The roof which collasped in Ghati Mohalla. A Tribune photograph
3 killed in two accidents
Khanna, June 8
Three persons lost their lives in two separate accidents last night in Khanna.


Allotment Scam
Probe panel makes no headway
Ludhiana, June 8
A three-member sub-committee of senior officials of the local government set up to conduct inquiry into allotment of plots to housing societies and locally displaced persons (LDPs) by Ludhiana Improvement Trust (LIT) here from April 2007 onwards has made no headway till now even as the allotments of plots made during this period remain frozen and all further allotments remain under a blanket ban.
Complete flood protection works: DC
Ludhiana, June 8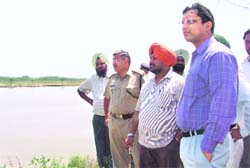 Vikas Garg, Deputy Commissioner, today directed the drainage and other departments to complete all flood protection works before the coming rainy season. He was inspecting the Dhussi bandh along the Sutlej in the district. The DC visited a number of vulnerable sites, including Issapur, Dhulewal, Ghumana, Garhi Fazil, Mattewara, Jamalpur, Leily, Kasabad, Khera Bet, Manewal, Huzra, Noorpur Bet and Madhepur.
DC Vikas Garg inspects Dhussi Bandh in Ludhiana on Monday. A Tribune photograph
State of Health- Part I
Ayurvedic dispensaries short of medicines, staff
Ludhiana, June 8
Poor infrastructure, missing medicines, inadequate staff in the rural ayurvedic dispensaries and new dispensaries set up in Primary Health Centres (PHC) and mini PHCs under the department of Ayush is a mockery of the oldest system of medicine.



Missing infrastructure at an ayurvedic dispensary at a mini Public Health Centre and; (right) half-empty containters point toward shortage of medicines. Photos: Inderjeet Verma
Foreign element in Fanta bottle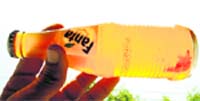 Doraha, June 8
Some foreign element was reportedly found in a Fanta bottle purchased by a resident of the town from a confectionery store here today.


Some unidentified foreign element found in a bottle of Fanta. Photo: Lovleen Bains
Smoking at Sutlej Club goes unchecked
Ludhiana, June 8
The Supreme Court regulations regarding no smoking in the public places is going up in smoke at the Sutlej Club. Members are openly flouting the rules and smoking on the club premises.
NGO for distraught people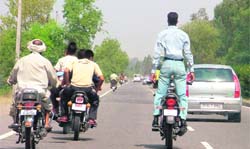 The work being done by New Hope, an NGO, formed by prominent hotelier and socialite NS Nanda received accolades from newly elected Congress MP from the city Manish Tewari recently. The young Lok Sabha member appreciated the work done by the NGO towards the welfare of the abandoned and lonely elderly persons, or those being ill-treated by their children.
4-member panel seeks records of illegal construction
Ludhiana, June 8
The four-member team formed by Mayor Hakam Singh Giaspura to probe illegal construction of 20 shops in Transport Nagar held its meeting and sought all relevant records for the inquiry.
Mayor pacifies protesting residents
Ludhiana, June 8
A high drama was witnessed here at Gurdev Nagar today following installation of a tower in a residential area.
Special persons given earthen pots
Ludhiana, June 8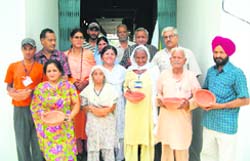 Activists of the Care of Animals and Protection of Environment (CAPE-India) distributed earthen pots to inmates of the Viklang Sahayta Kendra at Rishi Nagar yesterday so that they could provide water to birds in hot weather.


Inmates of Viklang Sahayata Kender and activists of CAPE India with earthen pots in Ludhiana. Tribune photo: Inderjeet Verma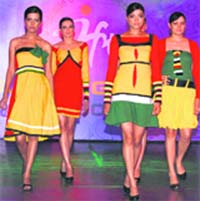 An evening of glamour
Ludhiana, June 8
An evening of glam and glitter marked the fashion show organised by the passing out students of the Sportking Institute of Fashion Technology (SIFT). Amid roaring applause, blaring music, scintillating lights and colours, the models walked down the ramp in tastefully tailored garments designed by the passing out designers of SIFT.


Models walk down the ramp in outfits designed by students of the Sportking Institute of Fashion Technology in Ludhiana. A Tribune photograph
Training on energy conservation begins
Ludhiana, June 8
A short-term training programme on "Energy Conservation and Auditing: The Need of Present Energy Scenario" was inaugurated by KD Chaudhry, member (Distribution) of the Punjab State Electricity Board (PSEB) at Guru Nanak Dev Engineering College here today. The one-week training programme is being organised by electrical engineering department of the college.
PMT: Rinnie tops in Ludhiana district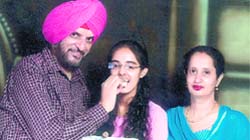 Rinnie Brar (centre) celebrates her success with her parents after securing 68th rank in the CBSE All-India PMT/PDT entrance examination, 2009. She is the topper in Ludhiana district. She did her Class XII from Radha Vatika School, Khanna. Her parents are doctors in Khanna, running their own hospital.
4-yr-old dies after consuming fatherís drugs
Jagraon, June 8
A four-year-old child died today after he accidentally consumed drugs of his drug-addict father on Friday.
Neha scores 79.4 pc, tops in BCom I
Ludhiana, June 8
The BCom I result was a matter of jubilation for Guru Nanak Girls College. All students passed with excellent results. Neha Kohli clinched the first position with 79.45 per cent marks, while the second and the third positions were bagged by Nidhi and Saru, respectively.


Man poisons son, self to death
Another son battles for life in hospital
Samrala, June 8
Tarikjot Singh (7), who was poisoned by his debt-ridden father and fighting for life and death at Sidhu Hospital, Doraha, died today morning.
Teacher commits suicide
Mandi Ahmedgarh, June 8
Manjit Singh, a former teacher and resident of local Dasmesh Nagar, whose son and his accomplice had allegedly killed his another son about 15 months ago, allegedly ended his life by hanging from a fan hook at his house yesterday.
Doctor misleading people on AIDS cure
NGO demands action for Act violation
Ludhiana, June 8
In a blatant violation of the Drugs and Magical Remedies Act 1954 (objectionable advertisements) a city doctor is misleading people through his claims of providing cure of HIV/AIDS.


Double delight for Pranav
Ludhiana, June 8
Local shuttler Pranav Chopra continues to make waves and adds one after another feather in his cap. Trainee of Ludhiana Badminton Acadmey (LBA), Pranav has won double crown in Krishna Khaitan Junior National Ranking Selection Tournament that concluded at Chennai today.
Ludhiana take on Bathinda today
Ludhiana, June 8
Ludhiana will take on Bathinda in the second match in the ongoing Punjab State Inter-District Cricket Tournament for the Katoch Shield being organised by the Punjab Cricket Association to be played on June 9 and 10 here on the Punjab Agricultural University campus ground.