Anti-Corruption Drive
Xen, others in CBI net
Chandigarh, June 10
The CBI today booked Ami Chand, executive engineer of the public health department of the MC, along with some other officials, on corruption charges as part of its ongoing two-day nationalwide drive against corrupt government officials.

Crash cuts short bright career
Chandigarh, June 10
He had always wanted to take wings, but fate cut short a promising career halfway. Wing Cdr Gitesh Singh Butalia, a resident of Sector 45, Chandigarh, met with a tragic end when the IAF AN-32 he was piloting crashed in the remote mountains of the northeast yesterday.
Wing Cdr Gitesh Singh Butalia
Another suspected case of swine flu
Chandigarh, June 10
A 50-year-old resident from Sector 49 of the city was admitted to Government Multi Speciality Hospital, Sector 16, with the symptoms of swine flu here today. The patient had arrived today from Thailand.
Salon, 5 shops gutted in Sector 7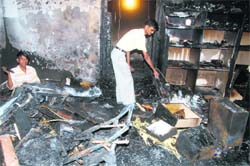 Chandigarh, June 10
A Sector 7 salon and five shops were gutted here this morning. No loss of life has been reported, but property worth lakhs has been destroyed. According to fire officials, the fire broke out at about 3.30 am and four fire engines each from Sector 17, Industrial Area, Sector 11 and Mani Majra fire stations were pressed into service.
One of the shops that was gutted in Sector 7, Chandigarh, on Wednesday. A Tribune photograph
Goods worth Rs 8 lakh gutted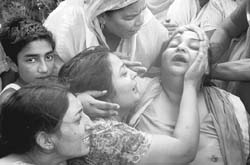 Panchkula, June 10
Goods worth lakhs of rupees were destroyed in a major fire that broke out at a godown of a carpet-manufacturing unit at Raipur Rani near her today.




Family members of the owner of a carpet manufacturing unit lament the loss caused by the fire at Raipur Rani on Wednesday. Tribune photo: Vinay Malik
Illegal structures razed at Kuda Lahora
Chandigarh, June 10
In a routine affair, UT estate office conducted a demolition drive at Kuda Lahora, here, yesterday.
Pensioners' body urges
Centre to check adulteration
Mohali, June 10
The Defence Accounts Pensioners Welfare Association has urged the Central Government to notify the Food Safety and Standards Act, 2006, to check adulteration, which was going on unabated.
Chargesheet filed against Saji Mohan
Chandigarh, June 10
The UT police today filed a chargesheet in a case of embezzlement of funds involving former Narcotics Control Bureau (NCB) Director Saji Mohan.
MC chief post: Admn for conducting fresh polls
Panchkula, June 10
While Panchkula Municipal Council president Ravinder Rawal has decided to file a petition in the Punjab and Haryana High Court against dismissal of his application by the District and Sessions Judge, the administration is preparing to write to the state government for holding fresh elections for the post of the civic body president.
Ghalib institute to felicitate Zakir
Panchkula, June 10
Eminent poet and fiction writer KL Zakir, secretary Haryana Urdu academy, will be felicitated for his contribution to enrich Urdu literature by Ghalib Institute and Aalmi Urdu Adab at a function in New Delhi on June 12.
37 new species of animals discovered
Chandigarh, June 10
As many as 37 new species of animals and insects were discovered in India, Nepal and Sri Lanka in 2008 by scientists of the Zoological Survey of India (ZSI).
Admn-NGOs partnership programme launched
Chandigarh, June 10
With a view to building partnerships with NGOs in socio-economic development, UT Administrator SF Rodrigues today launched a "partnership initiative programme" with a message of breaking artificial barriers and working together for creating resurgent India.
Doll Museum back in city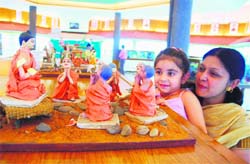 Chandigarh, June 10
The renovated Multi-purpose Hall, Open Air Theatre and International Doll Museum was inaugurated at Bal Bhavan, Sector 23, by UT administrator SF Rodrigues here today.





A child looks at the dolls during the inauguration of the renovated International Doll Museum in Chandigarh on Wednesday. Tribune photo: S chandan
City Scope Letters
Dynamic police force required


College Admissions-2009
Chandigarh, June 10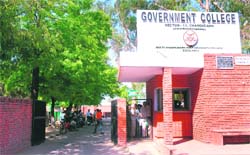 One of the renowned institutions affliated to Panjab University, Chandigarh, Postgraduate College, Sector 11, was established in 1953 and was shifted to its present campus in 1960. The college that started out as only boys institution soon became co-educational and with introduction of postgraduate courses received its current name recently, prior to which it was known as Government College.
Courses offered at Graduation Level
GC-46 — No earnings, principal shares honorarium
Chandigarh, June 10
Having sold 212 forms for the post of contract lecturers at the rate of Rs 250 each, Government College Sector 46, as per the documents procured under the RTI Act claims to have spent its "meager" earnings of Rs 53,000 on the interviews held in two phases last year from 27.6.2008 to 2.7.2008 and 12.7.2008 each.
Sec-46 college told to release degrees
Chandigarh, June 10
Disposing of a petition filed by interns of Dhanwantri Ayurvedic College, Sector 46, the Punjab and Haryana High Court has directed the college authorities to release the degrees of the BAMS to the petitioners.