PUNJAB
HARYANA
JAMMU & KASHMIR
HIMACHAL
REGIONAL BRIEFS
NATION
OPINIONS
LETTERS
BUSINESS
SPORTS
WORLD
BRIDES WANTED
GROOMS WANTED
OTHERS
HOW TO PLACE ADVTS
Saturday, June 13, 2009, Chandigarh, India
Updated at 3:00 am (IST)

PC hints at denying special powers to Army


Srinagar, June 12
Union Home Minister P. Chidambaram said here today that the Centre would look into the demand of revocation of the Armed Forces Special Powers Act (AFSPA) and he would discuss it with the Prime Minister and the Defence Minister.
Pak approach on terror debatable, says Krishna
New Delhi, June 12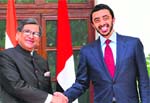 India has said it would talk to Pakistan if it takes "credible steps" to demonstrate its willingness to fight terror both "within and without".
External Affairs Minister S.M. Krishna (L) shakes hands with his United Arab Emirates counterpart Sheikh Abdullah Bin Zayed Al-Nahyan at a meeting in New Delhi on Friday. — PTI

CAST YOUR VOTE
Is there a lack of vocational education facilities in India?

EDUCATION
JOBS & CAREERS
HEALTH & FITNESS
SCIENCE & TECHNOLOGY
REAL ESTATE
SPORTS
TRIBUNE CLASSIFIEDS
No need to panic on swine flu: Azad
New Delhi, June 12
The Central government today said the swine flu pandemic alert declared yesterday by the World Health Organisation (WHO) was based on technical global assessment of the infection, and was not applicable to India, yet, as India had not reported any cluster formations so far. Globally, the world's first pandemic in 41 years has caused 140 deaths and 30,000 infections in 74 countries.
India starts work on swine flu vaccine
Will be ready in four to six months
New Delhi, June 12
India has started working on the development of swine flu vaccine, with the Indian Council for Medical Research (ICMR) and National Institute of Virology (NIV) successfully isolating the novel virus. The government has already asked WHO to share with it the seed virus — a request which the world health body has accepted on the condition that India would share the vaccine with other countries as well.
NDA 60 Glorious Years
1857 The First Challenge
E - Revolution 2005:
A Two-day IT conclave
Assembly Elections - 2005
Turbans
Chandigarh is 50
125 Years of The Tribune
India: The Tasks Ahead
India at Sixty
A Tribune Supplement
EARLIER FEATURES
On Sundays
On Saturdays
6-yr-old is Hyderabad's latest victim
Stages of flu
Govt may invoke Epidemic Act


Nurmahal Bypoll
71 per cent cast vote
Nurmahal, June 12
Contrary to expectations, the bypoll to the Nurmahal assembly segment passed off peacefully amidst tight security with 71.26 per cent voters exercising their franchise.
Bathinda Refinery
Punjab to reconsider fiscal incentives
Chandigarh, June 12
The state government has decided to have a fresh look at fiscal incentives being offered to Hindustan Petroleum Corporation Limited (HPCL)-Mittal Energy Limited's (HMEL) Rs 18,919-crore Bathinda refinery project following submission of three specific options by the latter. HMEL has sought increased incentives to ensure viability of the refinery vis-a-vis other upcoming facilities across the nation.
Indians, Chinese coming hard at US: Obama

Washington, June 12
Warning that the Chinese and the Indians were coming hard at the US in an increasingly competitive world, President Barack Obama has called for an improvement of the American education system to help US regain its pre-eminence.
PC for phasing out CRPF in J&K
June 12, 2009
Pressurise Pak to do more, Burns told
June 11, 2009
Ready for talks if Pak reins in terror: PM
June 10, 2009
Now, Mulayam does a Sharad Yadav in LS
June 9, 2009
NCP MP held for Cong leader's murder
June 8, 2009
Our image has taken a hit: Oz envoy
June 7, 2009
LeT headhunter has close ties with Saeed
June 6, 2009
India will reshape ties with Pakistan: Prez
June 5, 2009
Saeed release disturbing, Pakistan envoy told
June 4, 2009
Pak frees 26/11 accused
June 3, 2009
PM hopes for a 'new beginning'
June 2, 2009