This Above all
Australians are not racists
KHUSHWANT SINGH

Without a single exception, every country in the world has its small quota of thugs who target foreigners living among them or visiting their country. Australia has them; so does India. Indians have been targeted in America by Dot (Bindi) Busters, in England by Skinheads, in Germany, France, Russia—name the country, and it has its roughnecks. Indian goons are known to indulge in violence against fellow Indians—Shiv Sainiks against Tamilians, Biharis and Uttar Pradeshis.
Instances of molesting whites, particularly white women, are reported in the media every other day. It is only when governments do not take action against these hoodlums, or society tolerates them that a country can be censured as racist. So, though I share the anguish of my countrymen for the killing and stabbing of some Indian students in Melbourne, I refrain from tarnishing all Australians, or their government, as racist.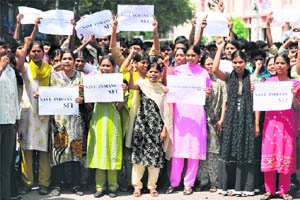 Members of the All-India Students Federation protest in Hyderabad against attacks on Indian students in Australia — AFP
I was pained to read that a good man like Amitabh Bachchan turned down the conferment of an honorary doctorate from the University of Brisbane. If he had accepted it with grace, it would have had beneficial results. Thousands of Indians live in Australia and are prospering. Thousands go to Australian universities for higher education. Many marry Australian girls and never come back.
There is a village, Woolgoolga, near Brisbane, which is largely inhabited by Sikh farmers, who make a handsome living growing bananas and other fruits. Famous Gurbani singer Dya Singh is among the many Indians who have made Australia their home. They are proud to call themselves as Dinkum Ozzies (Good Australians). I have visited Australia a few times and travelled across the country, stayed in most of its big cities, including Melbourne.
Wherever I went I was warmly received and welcomed in homes of white Australians. They are touchy about some subjects. Any illusion to their ancestors being convicts from England can spark indignation. Even reference to their cockney English makes them see red. They are also fiercely egalitarian and won't stand any snobbery.
When you hire a taxi, be sure to sit in the front seat along with the cab driver, and not in the rear seat as one who hired him. We have a lot to learn from Australians, and we expect a lot from them, including foodgrains and nuclear raw material. Let not a few incidents of goondaism sour this relationship.
Badri Raina
I have known Prof Badri Raina over the years without ever having met him. As his name indicates, he is a Kashmiri Pandit. He is an MA in English from Jammu and Kashmir University, and was captain of the J & K cricket X1, competing for the Ranji Trophy in 1961-62. He won a Fulbright scholarship to Wisconsin University, and got a doctorate in literature for his work on Charles Dickens, which was later published by the Wisconsin University press, entitled Dickens & The Dialectic of Growth.
He got offers to teach in American universities and decided to return home to India. After 30 years as professor of English literature in Kirori Mal College (Delhi), he retired from teaching three years ago. Badri Raina is deeply involved with Mirza Ghalib's poetry. His translations of selections from Ghalib's Diwan were published nine years ago. He has also written and published a lot of poetry in English. I take the liberty of reproducing some version from a longish poem, Frozen in Birth:
First we are born to man and wife;
Then they give us our names;
Those names then our prison make;
Of inflexible religious frames;
But I that a Hindu am;
Might well have a Muslim been;
Had the sperm and egg that wrought me;
Come from an Aslam and Nasreen;
What sense that we should thus invest;
Our lifelong loves and hates;
To an instant we had no inkling of;
And consign to that our fates;
Must we in loyalty embrace;
What darkness made of us?
Or should our selfhood discriminate;
A 'maybe', a 'no', a 'yes'?
Everything fresh
A new supermarket opened in Tampa, Florida. It has an automatic water mister to keep the produce fresh. Just before it goes on, you hear the sound of distant thunder and the smell of fresh rain. When you pass the milk cases, you hear cows mooing and you experience the scent of fresh mown hay. In the meat department there is the aroma of charcoal grilled steaks with onions.
When you approach the egg case, you hear hens cluck and cackle, and the air is filled with the pleasing aroma of morning breakfast cooking. The bread department features the tantalising smell of fresh baked bread and cookies. No one buys toilet paper there anymore. —
(Contributed by Vipin Buckshey, Delhi)