COLUMNS

THIS ABOVE ALL
TELEPROMPT
GOOD MOTORING
AUDIO SCAN
MUSIC ZONE
WEBSIDE HUMOUR

FOR CHILDREN

CROSSWORD
ROOTS
RHYME TIME

Earlier Feature
TELEVISTA
He's the most successful Indian tennis player, still going strong. M. S. Unnikrishnan spans the highs and lows of Leander Paes' career, who recently won the doubles title at the French Open, his third at Roland Garros and the ninth Grand Slam title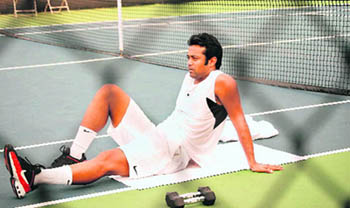 Many players of his age may have hung their boots, but at 35 Leander Adrian Paes is still hunting for and winning the big trophies.
Amazingly, while players half his age struggle to find their rhythm on the pro circuit, Leander has been going great guns, with his swift, sure-footed display. His nine Grand Slam wins —third on the clay courts of Roland Garros — are a testimony to his fitness, never-say-die-spirit, and his immense self-belief to deliver on the big stage.
Socrates invited his death
A Cambridge professor claims the trial was legally just, writes Arifa Akbar
The infamous trial of the ancient Greek philosopher, Socrates, has long been regarded as one of the first, most dramatic cases of miscarriage of justice, ending in the death penalty for the founding father of western thought.