ART & LITERATURE
'ART & SOUL
ENTERTAINMENT
TELEVISION
GARDEN LIFE
NATURE
FOOD TALK
CONSUMER, BEWARE!
FASHION
HOLLYWOOD HUES
BRIDGE
ULTA-PULTA
EARLIER FEATURE
TRAVEL
RELATIONSHIPS
DREAM THEME
TIME OFF
Bihar's bounty
Juicy litchis are like manna on a hot summer's day. Bihar is the largest producer of this fruit in India, but litchi growers in the state are treading a rough road to serve this 'delicate darling' on our tables, writes Sanjay Singh

LITCHI is a native fruit of China, which is still its largest producer in the world. However, the growing acceptance of this rare fruit in other Asian and western countries has made it a widely consumed exotic one.
Doon losing litchi
Multi-storey apartment blocks have not only changed the skyline of Dehradun but have also threatened the fate of the city's litchi, writes Jotirmay Thapliyal
Ever since it donned the mantle of a busy and bustling state capital, Dehradun has not only lost its aura of a quaint British cantonment which was a retiree's haven, but is also on the brink of losing its aroma of litchi in summer months. Going by the trend, Dehra litchis may soon be history.
Genius at work
Maths wizard Anand Kumar of Bihar is known all over the country for his 'Super 30' programme. He selects 30 poor but bright students out of thousands who appear every year for a test, and prepares them to get into the IITs, writes Uttam Sengupta
Anand Kumar was not a household name 15 years ago. He was then barely into his twenties, a postgraduate student of mathematics in Patna University. His father was employed in the Postal Department, and the family struggled to make ends meet.
On a wild trail
India's rich and varied wildlife is found in its sanctuaries and national parks, writes Gyan Marwah
India's spectacular wildlife and its huge variety of flora and fauna is being preserved beautifully in its national parks and wildlife sanctuaries. In recent years these parks and sanctuaries have added another aspect to their repertoire — that of wildlife tourism.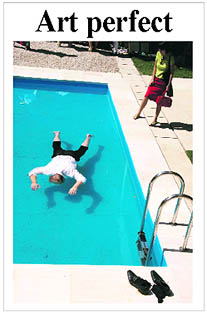 A visitor views an installation at the Danish and the Nordic pavilion during the vernissage of the 53rd Biennale International Art Exhibition in Venice Photo: Reuters

We need more substance on TV: Smriti Irani
Jasmine Singh chats up this original Ekta bahu, on her comeback show and her political career
Tell us something about your role in Maniben.com
Maniben.com is a middle class woman's journey to discover whether her individuality and values can withstand the pressure of the ever-changing competitive world.
Fair choice
Slickly edited Our Family documents the journey of three generations of transgender female subjects as they discover their sexual identities and blur the line between themselves and what is seen as normal social behaviour, writes Shoma A. Chatterji
SET in Tamil Nadu, Our Family is a different kind of documentary film that for the first time perhaps puts across a powerful statement on alternative sexuality and on new forms of family.
Honour for Kaka
Even after four decades, no actor has been able to match the appeal of Rajesh Khanna in his heyday, writes M.L. Dhawan
THE charisma of Rajesh Khanna, who was recently honoured with the Lifetime Achievement Award at IIFA, in China lies in the fact that he imbued majesty to mediocrity. His ordinary physique, average looks and non-heroic visage brought to fore the loveable boy-next-door.