Pool proof
Some tricity folks can take the plunge into a swimming pool right in their backyard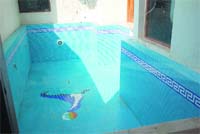 Human beings have always had a natural affinity for water. Civilizations of the world were built near water that lead to their prosperity. Feng Shui and Vaastu Shastra have long associated water with prosperity. Not only are the properties located close to water considered auspicious, a water feature is believed to add to the tranquility of a space.

A pool carved out in a 1-kanal Mohali house.
| | |
| --- | --- |
| Built in the 1950s, the city's first pool was at ex-MP Nirlep Kaur's house. | The pool at Manan Aggrawal's house in Sector 6, Panchkula. |
Matka chowk
Highway to the hills


Many of us escape to Himachal in summer. A lot of us are stuck on the highway at Kalka. Now that the plans have at last been sanctioned and it looks like actual reconstruction of the highway is underway (the stretch along Pinjore is already under heavy construction) many regular travellers must be elated, I am sure. Almost all regulars have had the experience of being stuck in traffic jams at Kalka, sometimes for hours.
Bank of
music

A senior bank executive, R.D Kailey, believes in the harmonic potion of sur, taal and laya
Music, to me is a charming impulse which wells forth the depth of my heart making me always absorbed and forgetful of problems and anxieties in my busy daily life," feels RD Kailey, an acclaimed amateur vocalist and a senior bank executive. "However, determination and discipline is necessary to strike an amiable balance between your cultivated passion and the statutory responsibility of your profession," he adds. — Photo: Vicky Gharu

Denim deals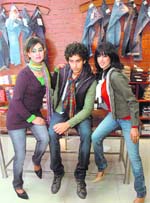 Numero Uno, the denim brand launched its Autumn 2009 collection, with its new range of denimwear ESPANA for men and women. Presenting the line in collaboration with Spanish company, Jeanologia, ESPANA defines contemporary trends with conventional designs. It is designed by using special laser technique on denim to achieve that authentic live-in and used look. The finish is highlighted more on thighs, inseams, and back to create a stunning trendy look. Priced between Rs 1999 to Rs 2399 it offers over 360 styles for men and women. "The best in Europe and now making its presence felt in India as well, it keeps the fashion conscious youth abreast with the international fashion scene," says Vijay Gandhi, business head retail and NU blue, Numero Uno.
Paint my wall
Sonalac Paints & Coatings Ltd, an interior and exterior paints manufacturing company has launched two new ranges of premier designer emulsion paints, Twinkle— the special effect metallic emulsion and Two tone Magic—the dual effect luxury emulsion.
Hrithik and Suzanne present not just designer wear but a cosy
Kaho na pyar hai
Bollywood couple Hrithik Roshan and Suzanne seemed to have put the Barbara Mori episode behind them as they walked the ramp at IIFA fashion extravaganza hand-in-hand.
| | | |
| --- | --- | --- |
| Actor Hrithik Roshan (R) and his wife Suzzane hold hands as they walk the ramp following a fashion display by Farah Khan | | Actor Bipasha Basu displays a creation by designer Rocky S Reuters photo: Tyrone Siu |
Aaj ka Arjun


Rampal will win for sure, predicts co-star Farhan Akhtar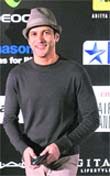 With just a day left for the IIFA awards there are plenty of punters betting on the winners, but none is as confident as actor Farhan Akhtar who is sure that his co-star from Rock on Arjun Rampal will triumph. "He is winning. I am sure about it," said a beaming Farhan Akhtar when asked about Rampal's chances at winning against Abhishek Bachchan, Irrfan Khan and Vinay Pathak who have been nominated in the 'Best Supporting Actor' category.

Meanwhile, Rampal expressed hope that the film which has been nominated in eight categories, including a nod for 'Best Film,' makes a clean sweep at the awards.— PTI
Director and actor Farhan Akhtar at IIFA. Reuters photo: Tyrone Siu

Shooting range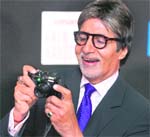 Bollywood megastar Amitabh Bachchan, who is often the subject of numerous shutterbugs, turned photographer for the IIFA fashion extravaganza and the celebrities were more than happy to oblige the veteran actor. While Aishwarya Rai Bachchan gave the event a miss as she was practicing for her performance at the award ceremony, Bachchan occupied the front row with wife Jaya Bachchan and son Abhishek Bachchan and clicked away as top models and Bollywood stars sashayed down the ramp.

Superstar Amitabh Bachchan in clicking mode. @@AFP photo: Ed Jones
Stride & prejudice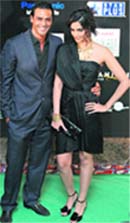 Sonam Kapoor may have shot to fame playing the coy beauty Sakina in Sawaariya, but she is set to surprise audiences with her turn as a headstrong socialite in Ayesha, an adaptation of the young actress's favourite novel, Jane Austen's Emma. The film which is a contemporary take on the popular classic is set in Delhi and is being produced by her father Anil Kapoor with Abhay Deol playing the lead opposite Sonam. "Emma is one of my favourite novels. I love the characsters because even I want a Mr Knightley or a Mr Darcy in my life," said Sonam, who all set to make her maiden performance at the IIFA awards, besides walking the ramp for designer Anamika Khanna for a charity event on Saturday.

"The beautiful thing about Jane Austen's novel's is that all the heroes are the same while the heroins are different. Emma had a stereotyped romance but she was not a typical woman," Sonam told newsmen in Macau. — PTI
— Arjun Rampal with Sonam Kapoor

Costume drama
Fashion gone flashy. Some of the stylistas on IIFA green carpet didn't quite turn anyone green with envy when they turned up in undefined silhouettes, oversized wraps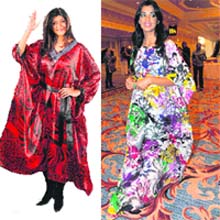 (Left)Curtains down on couture: Sushmita Sen continued her bizarre green carpet rendezvous Spray painting: That's what Mughda Godse's wardrobe said