Gateway to the World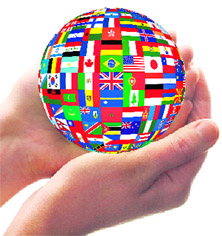 Calling all high flyers
The Foreign Service is among the most coveted jobs one could hope to get. It is a golden opportunity to represent your country abroad, meet heads of state, interact with officials and work on matters that affect the country and course of history
THE Indian Civil Service usually means the Indian Administrative Service or the Indian Police Service to most of us. However, over the last couple of months, officers of the Indian Foreign Service (IFS) have been in the news, whether handling negotiations for the nuclear deal, Indo-Pak discussions or, of late, attacks on Indian students in Australia. But even then, many of us don't really know much about this service, and so it doesn't feature in the top-of-the-mind options for a government job.
Career Hotline
Board results: not end of world
Q. Although I was expecting much more, I have scored only 49 per cent marks in Class XII CBSE boards. As it is a very poor percentage, should I appear for the exam again and how should I go about it? I am very confused and depressed.
A. Board results are not always a true mirror of a student's abilities. At times, they can be downright unpredictable. Don't worry, you have several remedial options to choose from.


Careercature
Sandeep Joshi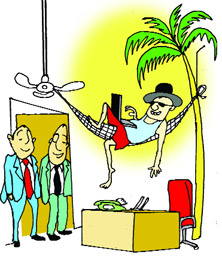 We can't give leave but we surely can arrange a holiday-like atmosphere for our employees!

OFFICE Mantra
More work, less pay
Courtesy recession, it is a buyers market out there and the bargaining power of the employee has hit a new low. Keep in mind that it is a passing phase and don't take any rash decisions
AT a time when India Inc is tackling the global downturn and the job market is gloomy, experts believe some companies may be squeezing more work out of employees for lesser pay. Industry experts say that the downturn has hit on the bargaining power of employees and a new entrant into a company may have to settle for less if he is hard pressed for a job.
Window to the future
Indian engineering graduates still root for IT, finds study
NEVER mind that the IT industry is going through a bad phase following global recession. It continues to be a preferred career option for the majority of Indian engineering students, says a new study. Conducted among 4,352 final engineering students across 151 engineering colleges, including the premier Indian Institute of Technology (IIT), the study found that 43 per cent students still prefer working in the IT sector.
Course chat
Protecting ideas
GLOBAL Institute of Intellectual Property (GIIP), co-headquartered in New Delhi (India) and San Jose (USA), is a pioneer educational institute in the field of Patents & Intellectual Property Services. The institute conducts training programmes (diploma & certificate), seminars and workshops to meet the growing demand of trained professionals in the area of Intellectual Property and Patents. These courses are available at the GIIP centers in Delhi and Bangalore and are designed specifically for graduates, post-graduates and PhDs in legal and technical domains who wish to build a career in the booming Intellectual Property (IP) industry.
Fortnightly Quiz-338
1. How many Grand Slam titles have been won by Roger Federer and Pete Sampras?
2. In which city did the President of the USA Barack Obama recently deliver a path-breaking speech wherein he called for reconciliation between Israelis and Palestinians?