M A I N N E W S
Maoists form human shield in Lalgarh
* Kill CPM leader, two party activists
* WB govt to launch operation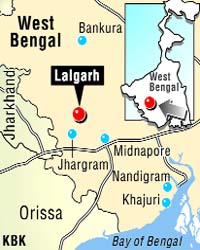 Lalgarh/Kolkata (WB), June 17
Flaunting AK-47 rifles, Maoists today roamed Lalgarh and formed a human shield comprising women and children vowing to stop security forces from storming the area as three CPI-M activists were killed in fresh outbreak of violence, after which West Bengal decided to launch an operation against the Naxals without saying when.
Having taken over the area after forcing the police out, agitating tribals, backed by Maoists, dug up the roads at several places and blocked roads with more than 100 tree trunks to obstruct movement as 2,100 paramilitary forces, including a special force raised to combat Left-wing extremists reached Jhargram, near Lalgarh.
The Maoists armed with AK-47 rifles manned the roads between Lalgarh and Belpahari, another Naxal-infested area, and erected a three-tier human shield by using children and women, a senior police official said. Approachable from four directions by metalled and mud roads, Lalgarh remained cut-off from three sides after tribals torched the police stations and ransacked the houses of local CPM leaders and took over the entire area. Earlier in the day, six unidentified gunmen shot dead local CPM leader and two party supporters.
Alarmed by the continued violence, Home Minister P Chidambaram today asked the West Bengal government to move security forces to Lalgarh. He suggested the state government appeared to be divided over whether to send the security forces to reclaim Maoist-held areas. The dead Marxist leader Amal Mahato, CPM's Shimli branch secretary, was part of a village resistance group which was assisting the police against the Maoists.
According to a senior Left Front leader, Chief Minister Bhattacharjee told a Front meeting that a squad of 100 Maoists armed with sophisticated weapons with some trained at Chaibasa in neighbouring Jharkhand sneaked into Lalgarh and the adjoining areas.
Normal life in Lalgarh continued to be stalled and high tension prevailed, West Bengal chief secretary Ashok Mohan Chakraborty told reporters in Kolkata after a high-level meeting to review the situation. Maoist leader Bikash said the people would resist any attempt by the administration to send paramilitary forces into the area.
"We will resist the entry of the administration or the forces in every possible way," Bikash said. On the other hand, a senior police official at Jhargram said "we are not in a hurry at present and are watching the situation" and Chakraborty said central forces "have not been deployed at Lalgarh as yet". The Centre asked Buddhadeb Bhattacharjee government, to firmly tell the police to reclaim areas dominated by Maoists and deal with the "deteriorating" law and order situation. — PTI/IANS