PUNJAB
HARYANA
JAMMU & KASHMIR
HIMACHAL
REGIONAL BRIEFS
NATION
OPINIONS
LETTERS
BUSINESS
SPORTS
WORLD
Saturday, June 20, 2009, Chandigarh, India
Updated at 3:00 am (IST)

Govt returns Gujaratís anti-terror bill
Says itís not in line with Central law, seeks 3 changes
New Delhi, June 19
The Union Government has returned the controversial anti-terror bill passed by the Gujarat Assembly with the recommendation that without three key amendments it cannot be sent for Presidential assent.
CAST YOUR VOTE
Should Indian students continue to go abroad for studies?

BRIDES WANTED
GROOMS WANTED
OTHERS
HOW TO PLACE ADVTS
EDUCATION
JOBS & CAREERS
HEALTH & FITNESS
SCIENCE & TECHNOLOGY
REAL ESTATE
SPORTS
TRIBUNE CLASSIFIEDS
Gunfight on as Maoists put up stiff resistance
Lalgarh/New Delhi, June 19
A gunbattle broke out today as security forces pressed ahead with its operation to flush out Maoists from besieged Lalgarh as the tribals blew up a bridge to stall their movement even as the Centre asked them to lay down arms and sit for talks.

Nation page:

CPM blames TMC, Maoists
Madni reveals links between LeT, Maoists
BJP taken over by plotters: Shourie
New Delhi, June 19
Stage was set here today at the BJP office-bearersí meeting for a stormy two-day national executive meet of the party beginning tomorrow, with senior party leader Arun Shourie shooting off a letter, alleging that the party has been taken over by conspirators.
NDA 60 Glorious Years
1857 The First Challenge
E - Revolution 2005:
A Two-day IT conclave
Assembly Elections - 2005
Turbans
Chandigarh is 50
125 Years of The Tribune
India: The Tasks Ahead
India at Sixty
A Tribune Supplement
EARLIER FEATURES
On Sundays
On Saturdays
ĎAkalisí do a Taliban in Ludhiana

Assault, strip tehsildar for refusing out-of-turn task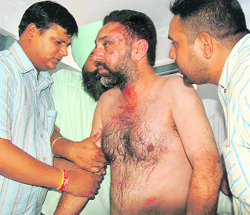 Ludhiana, June 19
An incident that reminds one of the barbaric Taliban rule that once existed in Afghanistan, a tehsildar was beaten up inside his office, then dragged out and stripped in full public view allegedly by some Akali youth wing activists here today.

PIL in SC over Mayaís statues
New Delhi, June 19
A public interest litigation (PIL) has been filed in the Supreme Court for restraining Uttar Pradesh Chief Minister Mayawati from getting her statues and replicas of her party symbol installed at public places by spending public funds.
Yamuna Water Sharing
Haryana, Rajasthan ready to form panel
Jaipur, June 19
Within days of writing to the Prime Minister to resolve the water-sharing issue with Punjab, Rajasthan Chief Minister Ashok Gehlot held a meeting with Haryana CM Bhupinder Singh Hooda to discuss the issue of Yamuna water sharing here today.
A Tribune Investigation
Homes without care - II
Peons, sweepers take care of kids
Chandigarh, June 19
More than 250 destitute children housed in children homes of the Punjab government are being taken care of by peons, gardeners and sweepers!
Crackdown begins to reclaim Lalgarh
June 19, 2009

Maoists form human shield in Lalgarh
June 18, 2009
PM talks tough on terror with Zardari
June 17, 2009
7 more students test positive
June 16, 2009
Swine flu comes to Punjab
June 15, 2009
Sinha quits party posts
June 14, 2009
PC hints at denying special powers to Army
June 13, 2009
PC for phasing out CRPF in J&K
June 12, 2009
Pressurise Pak to do more, Burns told
June 11, 2009
Ready for talks if Pak reins in terror: PM
June 10, 2009
Now, Mulayam does a Sharad Yadav in LS
June 9, 2009