Punjabi antenna
Wide and balanced coverage
Randeep Wadehra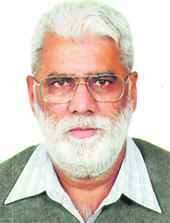 Jatinder Pannu's worldview has been shaped by real-life experiences as Kisan Sabha activist and journalist

It takes guts to speak out when prudence demands silence. Not many can claim to be forthright when it matters most. Jatinder Pannu — a familiar face on Doordarshan, Jalandhar — belongs to that rare species. During the days of terrorism his articles in various newspapers highlighted brutalities perpetrated by terrorists and security forces alike. On DDJ's Khas Khabar Ik Nazar, every Friday morning, he comes up with insightful, cogent and pithy comments laced with rustic parables/anecdotes and wry humour.
Interestingly, he is neither a trained academician nor a conventional intellectual. His worldview has been shaped by real-life experiences as Kisan Sabha activist and journalist. Presently, he is Assistant Editor with Nawan Zamana—apart from acting as honorary editor for various publications and radio stations abroad. He has represented the country at the United Nations Human Rights Commission, Geneva.
Pannu has authored six books, including satire Rang duniya de, poetry Ajj-Nama, an analytical tome Sikh Dharam de Smajik Sarokar, apart from books on terrorism and the Guru ka langar controversy.
In 1992, Pannu was awarded the National Media Award by the Small and Medium Newspapers Association of India. In 2000 the Language Department of Punjab honoured him with Shiromani Patarkar Award.
The recent Sant Ramanand's assassination-related violence, and the public outrage over attacks on Indians in Australia have been dealt with comprehensively by the various channels' news bulletins and talk shows like Khabarsaar & Ikk Khaas Mulakaat (Zee Punjabi), Straight Talk and Masle(PTC News) and Khas Khabar Ik Nazar (DDJ) etc.
While Sant Ramanand's funeral passed off peacefully—with our politicians unabashedly playing politics even on such an occasion—the talk shows came up with substantive mental pabulum.
As for the racial attacks in Australia, obviously the green-eyed monster has been working overtime among the white supremacists there. The consensus on talk shows was that the onus to protect the Indian students Down Under lies squarely on the Australian Government that has been encouraging our youth, through media and educational agencies, to migrate to Oz. The Indian Government, too, needs to do something more concrete than mere lodging of formal protests.
Punjabi television's journalists have proved their mettle on several occasions. Daljit Singh of PTC News has impressed with his intrepidity and integrity. He has exposed corruption in high places, bureaucratic indifference towards the exploited poor, and general violation of laws by the empowered. The most recent was catching on-camera policemen on duty drinking liquor in a PCR van—small change by the journalist's standards but effective nevertheless.
Another journalist from the channel, Rajesh Inderpal, has been campaigning against environmental pollution in Ludhiana for quite some time now. Last fortnight he reported how even the city's posh localities get sullage as drinking water. An official from Punjab's Pollution Control Board actually blushed on camera while admitting that all the samples collected from posh colonies have "failed miserably". Inderpal revealed how tubewells remain unmanned; leaving them vulnerable to pollution and mischief.
However, the same channel is guilty of transgressing the proverbial Lakshman Rekha. Its Jalandhar correspondent and TV crew showed a young couple being thrashed by a group of women. The allegation was that the man, a father of two, was living with another woman. The onscreen violence against the young couple raged on — thanks to the presence of media. It did not occur to anyone that this was a patently illegal act. If media-inspired 'justice' is going to subvert the due processes of law, we will have chaos of humongous proportions at our hands, resulting in kangaroo courts. Do we want this?