BJP being run by six journalists: Shourie
Faraz Ahmad
Tribune News Service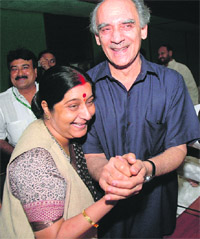 BJP leaders Sushma Swaraj and Arun Shourie greet each other during the party's national executive meeting in New Delhi on Saturday. Tribune Photo:
Mukesh Aggarwal
New Delhi, June 20
At the first national executive meeting of the party held here today, senior BJP leaders "freely and frankly" expressed anguish and regret over the manner in which the party was being run, with Arun Shourie reportedly charging that "the BJP is being run by six journalists."
Similarly, an equally anguished Jaswant Singh announced that he would not accept any more posts in the party and may opt out of future election process.
Demanding a proper accountability in the party, Shourie, who sent a strong letter to party president Rajnath Singh yesterday, said it was all very well for the president to own up the responsibility for the party's debacle, but wondered whether those who were actually responsible for bringing the BJP to such a pass would be held accountable.
To buttress his point, he said the party was being run by six journalists. He did not name anyone but it was obvious that he referred to the members of LK Advani's think tank, namely Sudheendra Kulkarni, Balbir Punj, Chandan Mitra, Swapan Dasgupta, Kanchan Gupta and Ravindra Dani.
Referring to Rajnath's promise to hold a "Chintan Baithak sometime in August, Shourie wondered what purpose it would serve if all those who were responsible for this debacle would also sit and decide in this meet also. Again he did not name Arun Jaitely but clearly he was pointing an accusing finger at him, who is currently holidaying in London.
The other notable absentee was Yashwant Sinha, who had asked all others to follow his example by giving up party posts.
Shourie too suggested setting up a 10-member committee to run the affairs of the party till fresh elections were held and a completely fresh and new set of people got elected.
Jaswant was upset with media reports saying he was not happy over giving up his room in Parliament and wanted to sit in the front row with Advani in the Lok Sabha.