An extraordinary soldier
Gen V.P. Malik (retd)
General S. M. Shrinagesh: Soldier, Scholar, Statesman
by Brig Satish K. Issar VSM (retd) Vision Books. Pages 360. Rs 595.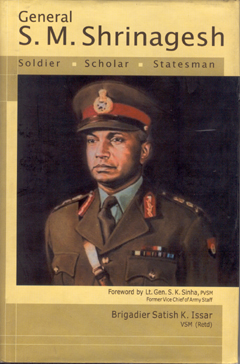 THIS book is an ably done mix of an autobiography and a biography. While the autobiography part describes the original, fairly voluminous, notes left by the late General and preserved by the family, the biography part is the author's exhaustive and painstaking researched narration of events of General's personal and professional life. The author's major advantage is that he belongs to the late General's regiment—Kumaon Regiment—and knows the family well.
From a professional standpoint, the autobiographical part is fascinating. It throws light on the transition of the Indian Army from a colonial to a national Army, while it was actively engaged in its own division with Pakistan, providing aid to civil authorities in the partition holocaust, integrating Hyderabad and Junagarh with the Indian Union, and most importantly, participating in the 1947-48 war in Jammu and Kashmir. All this happened when junior-level Indian Army officers were rapidly promoted to senior positions. Srinagesh, who commanded a battalion in 1942-45, became a Corps Commander in the Jammu and Kashmir War. Some revealing impressions from his notes are given below:
"In spite of enormous disadvantages, I was determined that we should succeed (in the capture of Zoji-la) and indicated my determination to the officers conducting the operation. The reaction of one of the senior officers was that even this attempt at breaking through the Zoji-la pass had remote chance of succeeding. In order to break this form of negative thinking, I asked him to put his point of view in writing. This he hesitated to do and we were able to proceed with the operational discussion with positive plans."
"For India, the military situation in Kashmir had been adversely influenced by political considerations. Pakistan had no legal or moral right to operate with its army in Kashmir against the expressed wishes of the people and the ruler of Kashmir, whereas India had. Still India referred the matter to the United Nations, which set up UN Commission on India and Pakistan, before which both parties came to an agreement to refrain from offensive action likely to aggravate the situation."
"There had been a myth that Indian soldiers could only fight under British officers. This myth was exploded."
After initial security problems of the nation had been tackled by the Army, the Government of India began to consider downsizing the Army and to make use of it as a labour force. When Shrinagesh took over as Chief in May 1957, the strength of the Army was about 4,50,000. The government had planned to bring it to 1,50,000, reducing 10,000 men per year. General Shrinagesh stated:
"Leaders of free India were busy impressing upon the world that we were a peace loving nation, with people wedded to the ideology of Ahimsa, and steeped in the belief that peaceful attitude was a sufficient safeguard against any thought of aggression. As a matter of policy, we hastily expressed our close friendship with Communist China, Nepal, Burma and Tibet. We felt certain that in spite of the necessity of Partition, and while deploring the communal frenzy that it evoked, the people of Pakistan and India were close kith and kin, and would never dream of taking an aggressive attitude to each other."
"To me this kind of thinking seemed manifestly short sighted `85 . Dr Katju's (then Defence Minister) and my arguments on Pakistan seemed to make some headway with Panditji (Nehru). He agreed that Pakistan was making military alliances, had been contemplating rearming with modern weapons, and had by no means forgotten Kashmir. But when it came to China, it drew a firm "No" because the Chinese were our trusted friends; and we (army commanders) were foolish, hot headed, and needlessly belligerent. Unfortunately, perhaps, China had not yet built the Aksai Chin Road, and we came away with the agreement to a 3,00,000 force, less than what we had contemplated, but still a force and a military one — not a labour corps!"
General Shrinagesh's most interesting comments, relevant even today, are on the subject of civil military relations, joint defence strategy and Chief of Defence Staff. He wrote: "What is civil control? Surely not control by civil servants whose task is to provide a secretariat to the Defence Minister! It means, necessarily, political control, which is fundamental to our democracy. Such political control must be that of the Minister, without the Defence Secretariat working as a sort of Controller General of the three Service Headquarters."
Many other notes, such as the rift between king's and Indian commissioned officers, military leadership, training, national discipline, and the role and tasks of a Governor, give an insight to the events of those days and General Shrinagesh's own thinking. Two important conclusions can be drawn from General Shrinagesh's notes. One, lack of strategic perceptions after Independence, particularly on China. Two, Strong political leadership of the period, which tended to ignore military advice and depended more on its own and bureaucrats' perceptions. The reasons could be (a) Indian military and higher defence organisation before Independence was completely under British control. The British never consulted Indian leaders on strategic issues and real politic. Our own strategic resource pool of thought, talent and specialists was non-existent. (b) Having been catapulted from tactical to strategic level, senior military officers had little education and experience of strategic issues. They performed well in operations but were unable to influence politico-military decisions.
General Shrinagesh emerges as a modest, humble and humane person, who went about his duties in a quiet and dignified manner, preferring to remain out of publicity and controversies. The human angle in the book is provided by General's family, particularly by Mrs Rajkumari Shrinagesh, who as a young educated Panjabi girl married a South Indian officer—a rare event in the social milieu of early 1930s. An important military history contribution, this book is worth reading!