Asian giants in focus
Parshotam Mehra
India and China: The Next Decade
Eds S. D. Muni and Suranjan Das. Rupa & Co in association with Observer Research Foundation. Pages viii+135. Rs 395.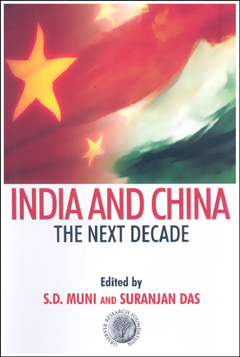 THIS thin volume, the end-result of a joint seminar of the Observer Research Foundation and the university of Calcutta, was designed to look at the 'constructive as well as conflictual' dimensions of the India-China engagement. Among the participants were economists, strategic experts, senior diplomats as well as academics, journalists and policy makers presenting a 'balanced and meaningful' perspective on the two countries' relationship with each other as well as the rest of the world.
The range was wide and included Pranabh Mukherjee, then Minister for External Affairs and now Finance; General V. P. Malik, a former Chief of Army Staff; Maharajakrishan Rasghotra, India's Foreign Secretary in the mid-1980s; Brajesh Misra, National Security Advisor and Principal Secretary to former Prime Minister Atal Bihari Vajpayee as well as A. B. Bardan, general secretary of the Communist Party. Two known academics, Jayanta Kumar Ray, formerly professor of international relations, and Ratan Khasnobish of the Department of Business Management, both of Calcutta University, were there too. Their presentations, ranging between two-four pages, are arranged under five main heads—Perspectives, The Rising Economies, Strategic Dimensions, Engagement with the Emerging Asia and Problems and Prospects.
Though it is difficult to sum up the proceedings of a seminar, especially where diverse areas and fields of interest are in focus, one way out is to touch upon a few select themes as broadly representative of the whole. Here is a sum-up. The border dispute: what is needed is 'a political solution with a spirit of give and take'; results of several working groups on trade and commerce, defence and bilateral cooperation are 'quite promising'; China is rapidly moving up the 'technology ladder' where India is a laggard; the future belongs to 'allowing free play of market forces with substantial devolution of power'; having seen the short distance between the Lahore Agreement and the Kargil War, caution should be the key word—'most certainly cooperate but as certainly ensure security'. Today's nuclear weapons as currencies of power may in the not too distant future yield place to nuclear energy as currency of power. For Beijing, the emphasis is on the six-member Shanghai Cooperation Organisation (SCO) founded in 2001, which, besides China and Russia, includes Kazakhstan, Kyrgystan, Tajikstan and Uzbekstan. Nor is it unconcerned with the India-China-Russia triangle. India suffers from an 'extremely weak connectivity' with the rest of Asian countries in terms of roads and air linkages. Among ASEAN countries, the image of the 'ugly American' of Vietnam days has now been replaced by the axiom of the 'ugly Chinese'; the question of energy security is in 'large measure' driving the approach and policy premises of decision-making both in India as well as China.
In more ways than one, this slender volume leaves a lot to be desired. It bears all the imprints of a hurried exercise. There is no indication as to when the seminar, whose proceedings it encapsulates, took place. Most contributions do not go beyond vague generalities. The hardliners—comrades A. B. Bardan and Nitopal Basu—stick to their well-worn ideological rhetoric; the academics to their ambiguous, if not sometimes confused summary statements of how to put things aright; the journalists to by no means untypical advisory if hortatory exhortations. All in all, there are few if any surprises as the narrative, for most part, flows along expected lines.
There are compensations though. Brajesh Misra, for instance, underlines the fact that as between India and China, there is not 'even an agreed delineation' of any part of the boundary, nor yet the 'exact location' of several points of the line of actual control (LAC). He reveals inter alia that he was averse to the publication of the 1960 Officials Report for fear it would make negotiations 'more difficult'. His political bosses though were strongly persuaded to the contrary, there was no question of negotiations: 'China had to accept our claims'. Nor did we 'correctly assess' the relative military strength of China: 'a public instruction to our armed forces to clear the concerned areas of Chinese presence was thought to be enough to make the Chinese withdraw'! He sounds a note of stern warning against sentiment governing foreign policy issues: 'policy and diplomacy must be based on hard realities and not sentiments.' (emphasis added)
A word on the two editors: S. D. Muni is senior research fellow at the Institute of South Asian Studies in Singapore; Sranjan Das, a former professor of history, is now Vice-Chancellor of Calcutta university.