Tyrant who ruled the Bront`EBs
Chris Green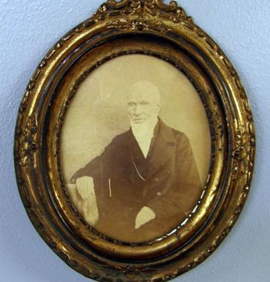 An ageing sepia photograph of Patrick Bronte has resurfaced after missing for more than a century
IN her famous 1857 biography of Charlotte Bront`EB, Elizabeth Gaskell described the author's clergyman father Patrick as a "strange" and "half-mad" man who was "not naturally fond of children". Ever since, the unfortunate Reverend Bront`EB, whose children Anne, Emily and Charlotte penned some of the most enduring novels in English literature, has been regarded as a cold and unfeeling man who terrorised his family with his sudden bursts of temper.
Now, an ageing sepia photograph of the Bront`EB patriarch has resurfaced after missing for more than a century. Discovered at a Midlands antique fair, the picture is still mounted in its original oval gilt frame and shows the elderly rector looking characteristically stern. The man who spotted the photograph, which was hidden in an old box of papers, has decided to sell it through a specialist auction house in Surrey. The lot is expected to fetch up to `A3600 when it is sold on June 24.
Once proudly displayed alongside other Bront`EB mementos at the Temperance tearooms in the family's home village of Haworth in West Yorkshire, the picture was auctioned by Sotheby's in 1898 when the Museum of Bront`EB Relics closed down and sold off everything it owned. It has not been seen since, although copies of the picture are known to exist.
In the 1898 sale, the newly established Bront`EB Society could only afford to spend `A320 on mementos, missing out on hundreds of valuable items including the photograph.
In a bitter twist of irony, the society has now again admitted it was unable
to purchase the picture due to
financial difficulties.
Andrew McCarthy, the director of the Bront`EB Parsonage Museum in Haworth, which is owned by the Bront`EB Society, told The Independent that "limited resources" and the economic crisis prevented the museum from placing a bid.
The photograph is likely to fascinate Bront`EB enthusiasts seeking an answer to the riddle of the patriarch's personality. Many have never understood how an irascible Irish clergyman came to father three writers of such talent, who between them produced Jane Eyre, Wuthering Heights and The Tenant of Wildfell Hall.
In her Life of Charlotte Bront`EB, regarded as a classic Victorian biography, Gaskell issued a searing indictment of the Reverend's relationship with his children, writing that he viewed "their frequent appearance as a drag both on his wife's strength, and as interruption to the comfort of the household".
As well as his fits of temper — during which he burnt his children's boots, shredded his wife's gown and fired a gun out the kitchen door — Mr Bront`EB would also make his daughters wear masks while he questioned them about moral issues, which he insisted would "make them speak with less timidity".
His damaged reputation was not repaired until 2005 when a collection of his letters was published. Last year Dudley Green, a former chairman of the Bront`EB Society, wrote a sympathetic biography portraying him as "an able and faithful clergyman" who cared deeply about his children.
— By arrangement with The Independent