SHORT TAKES
Footprints of history
Randeep Wadehra
Haryana: The Torchbearer of 1857
By Tejinder Singh Walia. Aggarwal Parkashan. Pages 250. Rs 990.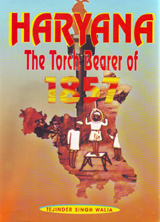 Although not improbable, it is rare for history's forgotten footnotes to suddenly expand into a full-fledged paragraph, if not a chapter. Sometime back S.P. Gupta's Haryana: An overview was reviewed in this column wherein, in a chapter, the author had claimed that the First War of Independence had begun in Ambala Cantonment and not in Meerut. Now Walia has come up with a full-fledged, well researched, illustrated and argued book on the same issue.
The reasons for dissatisfaction among army sepoys at Ambala were the same that had triggered revolts in Meerut and elsewhere, viz., the use of cartridges greased with the fat from pork and beef — forbidden, respectively, in Islam and Hinduism. Despite attempts to calm things down the mutiny broke out at 9 a.m on May 10, 1857, says Walia. However, to qualify as progenitor of the First War of Independence the Ambala mutiny would have had to start before the Meerut mutiny because the latter, too, had taken place on May 10, 1857. Perhaps, it was a matter of few hours.
Nonetheless, the author has provided enough documentary evidence, in the form of correspondence among British officials; the list of mutineers captured and punished — most of them hanged, shot or otherwise executed — along with the details of their religion, caste and native places, which tells us how the anti-British sentiment had raged in the hearts of freedom fighters who belonged to different social, economic and religious denominations. Walia has put in tangible effort in acquainting us with the hitherto ignored details about the First War of Independence in 1857.
The Chandigarh: An Overview
By S.P. Gupta. Ess Pee Publications. Pages 300. Rs 395.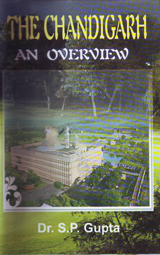 Chandigarh, as an exotic seedling of an idea from the West, was transplanted into the hot and dusty land now bordering the states of Haryana and Punjab. Happily, it took roots soon and turned into a vibrant organism over a period of time — becoming a prime example of healthy hybridisation of occidental and oriental cultures. After all, if Chandigarh owes its concept and execution to the western mind, its growth into a colorful city is essentially Indian — rather Punjabi — in nature.
Gupta, however, goes back to hoary past to trace the Mohenjodaro/Harappan antecedents of the land (as distinct from the present city). He goes on to deal with such subjects as Chandigarh's history, planning and architecture, landscaping, natural resources, demography, agriculture, industry, education and health etc.
This book can be useful to those who want to get acquainted with modern Chandigarh, its tourist spots, vicinity and its historical moorings.
Music for the eyes
By Lovleen Baidwan Sohi. Unistar. Pages 152. Rs 200.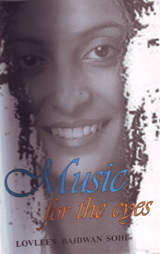 A poet without love`85 a physical and metaphysical impossibility. — Thomas Carlyle
Poetry flows out of the love-lit heart like a brook spouts from a subterranean river. Bashfulness gives way to unambiguous affirmation of one's most sacred feelings for the cherished one. Some such thing has happened to Lovleen who has come up with a full-fledged tome of gushing love poetry wherein she expresses her joy and attendant emotions in well articulated free verse. However, in her bliss, she hasn't forgotten her friends like Sasha, her dad and God — who have separate poems addressed to them.
Here one recalls Alexander Pope's following words from his essay, The Art of Sinking in Poetry:
Ye gods! Annihilate but space and time. And make two lovers happy.
Of course, Bulle Shah's Beshaque mandir masjid todo`85 is far more eloquent and evocative than Pope.