Pain in the palette
Art based on raw truths may not sell. But there are a few brave artists who do not mind portraying the dark side of life on canvas. After all, colours speak the proverbial thousand words
There are 217 million undernourished people in India. Curse statistics, feel sorry, forget it, forgive it and move on! A frozen picture of a child staring at the food carelessly thrown on street, in turn stares into the soul and freezes you.
Code of conduct
Sloppy dressing, loud colours and provocative cuts are a total no-no when it comes to corporate dressing
A nicely cut dress, elegant shoes, hair tied in a neat bun, smart wristwatch and a trendy handbag is what we picture when we say, corporate dress code. But whatever we may say, the image was more or less created after we all saw Corporate-starring the Bong beauty, Bipasha Basu, in smart business suits and pleated trousers.


Tall, fair & handsome
The fixation for a fair Ďní clear skin has gripped the male world too. We check out
Some things never change- like the frenzy at every Indian home on the day of the cricket match between India Vs Pakistan, audiences hooting at a pretty sultry actress romancing on screen, people engaged in serious discussions on topic they have virtually no idea, mommy daddy looking for a girl with wheatish complexion for their son, and last but not the least, the colour fixation of Indians, irrespective of the sex.

Pret & paper
Pocket friendly yet great to look at, paper jewellery is the in thing
Itís paper and mind you, itís making news for more than just eco friendly products. Well, going by the trend in the metros, we now have jewellery made out of paper too. Yes, you read it right, trinkets made out of humble paper. Made of recycled paper and water, it promises to be environmental friendly and is light, durable, sweat resistant besides withstanding normal pressure and well, they are easy on the pocket too.



Spade work
In full bloom
Temperature is rising with every passing day. And you thought it was time for the gardeners to take rest, as there was not much to do. Moreover, the range of summer annuals is limited and there is less opportunity to have colour in the garden. But you need to have an eye and planning. There is no dearth of it. There is no doubt the range of annuals is small as there are only a few summer annuals that can be counted on fingertips.


Handle with care
Can't get your eyes of the swanky, stylish, cool hi-end phone, loaded with a zillion features? Not your fault. With mobile companies rolling out top grade cell phones almost every month, consumers are bound to be confused and enticed given their smart and chic looks. But, here wait could be a deterrent.


Triple treat
Three new engines launched for the Audi A4
Audi, the German luxury car manufacturer, announced the introduction of three new engines for the Audi A4 ? the 3.0 TDI quattro, the 2.0 TFSI and the 1.8 TFSI. With a range of five engines, the Audi A4 becomes the model with the widest choice for customers in the luxury car market in India.
Fling with machines
Technology is a mind game, and it changes within seconds. What is new today, might be redundant in matter of months, or who knows tears as well, says Joe Baath, sportscaster and television anchor with ESPN Star Sports, who categorises himself as a geek freak, someone who cannot live with his PDA cell phone.
GEEK SPEAK
Six sense
Buying a laptop is a major investment decision. As such it is not one that you should make lightly. So here are six tips that will help prepare you for making the best and most well informed decision when buying a laptop.
We need no publicity
Neil described New York as an intelligently made film, which will pick up at the box office through word of mouth
Too much of publicity heightens the level of expectations and some times proves detrimental to the filmís interests. We are very confident of our product,Ē said actor Neil Nitin Mukesh.
Mujhse shaadi karogi?
NRI bids to marry Rakhi Sawant
Elesh Parujanwala, a 30-year-old Gujarati NRI, is one among the thousands bidding to marry item girl Rakhi Sawant through the reality show Rakhi Ka Swayamvar. Parujanwala came from Toronto after leaving his family business to start a new venture in India sometime back and felt the need for a partner.
The con is onÖ
Rumours of my rift with Akshaye are nonsense says, Arshad Warsi
Arshad Warsi is irritated with rumours that all is not well between him and Akshaye Khanna, his co-star in Shortkut - The Con Is On. ďI am so surprised that throughout the making of the film there was no (report of a) rift between the two actors.


In style, I wed thee...

Models display designer Neeta Lullaís creation during the wedding fair, Shagun 09 in Mumbai.
Doll up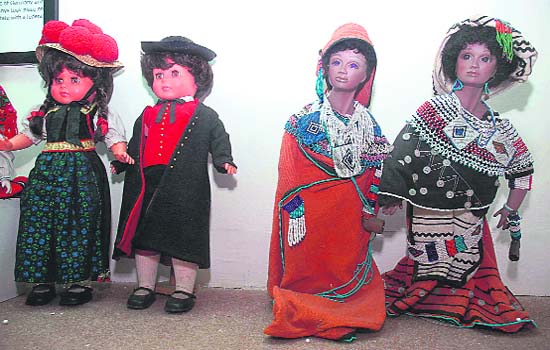 Itís a cultural amalgamation at the International Doll Museum in Sector 23. Lifestyle photos: Parvesh Chauhan