BP: myth and reality
Dr Atul Mahajan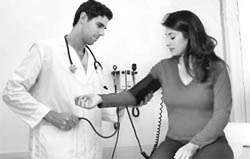 Hypertension, popularly known as blood pressure, is going to have the highest incidence in India among all countries in the world by 2020. Here are some of the myths and facts about the disease.
Myth: If there is high BP there should be some symptoms like headache and giddiness. If there is no obesity and one is a non-smoker and vegetarian, high BP cannot occur.
Fact: Not correct. At least 90 per cent of high BP patients do not have any symptoms. It is usually discovered accidentally in a routine check-up or before any operation. There is no single cause for high BP as it is the result of many factors, including heredity, age, obesity, stressful life, disease of the kidney or endocrine organs, etc.
Myth: If there are no symptoms one should not take medicines.
Fact: Not correct. Even if there are no symptoms one has to take treatment as the complications over a period of time are very serious, e.g. stroke (paralysis), heart attack, retinopathy (leading to blindness), nephropathy (leading to kidney failure).
Myth: When the blood pressure becomes normal with medication one can stop the medicine.
Fact: Not true. Stopping the medications may lead to rise in the blood pressure again. This will lead to fluctuations in the blood pressure, which is far more injurious to health than sustained high BP. It is important to maintain normal blood pressure with the use of medications on a regular basis as the disease is usually life long.
Myth: Once medicines are started for high BP one becomes addicted and has to take it for one's lifetime.
Fact: Only 20-30 per cent of high BP patients (especially mild ones) can be controlled or even "cured" with life style modification only (especially quitting smoking, reducing salt in the diet, reducing body weight, regular exercise, and also by relaxation methods like yoga, meditation, pranayama etc.) The rest of high BP patients required medicines for the whole life, not because the medicines are addictive but they are required for keeping the BP under optimal control.
Myth: In the long run BP medicines are expensive and, therefore, it is not possible to take such expensive treatment lifelong.
Fact: Not all BP medicines are expensive. There are a variety of BP medicines, some of which are relatively inexpensive.
Myth: A "normal" systolic blood pressure equals 100 plus your age. At old age high BP is usually normal and should not be treated.
Fact: Not correct at all! Hypertension is not a natural part of growing older. If it were, every old person would have hypertension. It has been found out by studies that even in old age high BP, especially the upper reading (systolic), is as harmful or even more so than high BP in the young. For many, blood pressure below 140/90 mm Hg represents an appropriate treatment goal today.
Myth: If blood pressure is high, the cholesterol level will also be high.
Fact: Such a conception is baseless. Sometimes, it is true with some individuals, but this is not always the case.
The writer is a consultant physician at Indus Hospital, Mohali.