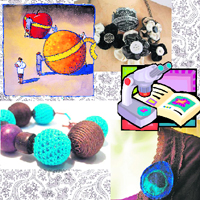 Home science is no longer a
course in domestic science for
the aspiring homemaker. It now
includes food and nutrition,
resource management, human
and child development and
fabric and apparel science,
making it the ideal blend of
a scientific programme with
practical applicability.
Science that's hands-on
At one time, home science was a course you took up only if you were a girl and were likely to be a homemaker. It was termed domestic science and the general assumption was that the course covers cooking, stitching and home making.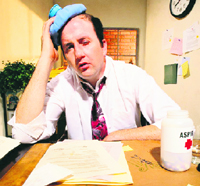 scapegoat at Office
Don't let them get you!
Reeling under the meltdown, the blame
game is at its peak in the workplace.
Here's how to make sure you don't
get caught in the web.
When an individual runs into trouble, he
looks for a scapegoat. This phenomenon
is prevalent among children, adults and
even co-workers. As the world battles
the economic meltdown, employees are
all the more worried and inclined to
protect their jobs and the inclination to find a scapegoat is heightened.
Green jobs sector poised for explosive growth
A new study has determined that green-collar workers, who include everyone from energy-efficiency consultants to wastewater plant operators, are poised for explosive growth as a segment of the US economy.


Careercature
Sandeep Joshi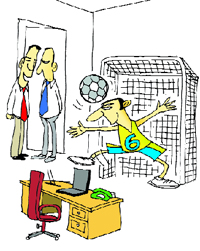 We prefer football players for
new appointments, at least
they know their goals.

With a miniscule 2.4pc share in global fish market, India's annual export earnings are already worth over Rs 8,000 crore! With the country's rich aquatic resources, fisheries seems to be a good bet.
Nothing fishy about it
Fisheries has emerged as an industry with rapid commercial growth in the last two decades and holds great potential in improving food security, generating employment, raising socio-economic status and nutritional levels and earning foreign exchange. India is now the third largest producer of fish in the world with an annual production of 6.90 million tones (mt) and ranks second in inland production (3.7 mt).
To a starry future
People & diamonds have real value
only once polished
Punjab can proudly acclaim of having the maximum number of schools, colleges, universities besides educational and training institutes, but when it comes to higher university admissions and job placements, the success ratio is alarmingly low.

Career Hotline
n Go on, be a front-runner!
n Hydropower holds untapped opportunities
n Don't look back, focus on BBA
n Be the bridge between management & media
n Enroll in CA Foundation, MBA can be done later
n A TV producer is a multi-tasker