M A I N N E W S
King of Pop Jackson dies at 50
Ashish Kumar Sen writes from Washington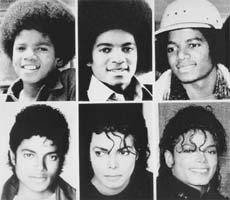 Michael Jackson is seen in file pictures from top left — 1971, 1977, 1979; and bottom left — 1983, 1987, and 1990. — AP/PTI
Michael Jackson, King of Pop who first enraptured audiences as a child star and eventually Moonwalked his way into the hearts of millions around the world, died of an apparent cardiac arrest in Los Angeles on Thursday. He was 50.
Paramedics were called to the entertainer's Beverly Hills home at around midday after he stopped breathing. He was pronounced dead two hours later at the University of California, Los Angeles, Medical Centre.
News of Jackson's death was confirmed by his brother Jermaine. "My brother, the legendary King of Pop, Michael Jackson passed away on Thursday June 25, 2009, at 2.26pm. It is believed he suffered cardiac arrest at his home. However, the cause of his death is unknown until results of autopsy are known," he told reporters.
"His personal physician, who was with him at the time, attempted to resuscitate my brother, as did the paramedics who transported him to Ronald Reagan UCLA Medical Centre. Upon arriving at the hospital at approximately 1.14pm, a team of doctors, including emergency physicians and cardiologists, attempted to resuscitate him for a period of more than an hour, and they were unsuccessful," Jermaine said, adding, "Our family requests that the media please respect our privacy during this tough time."
As the news sank in, speculation began to swirl that Jackson's death had been brought on by his alleged addiction to prescription drugs. Brian Oxman, family's lawyer and long-time friend, said Jackson's family had long been concerned about his use of prescription drugs and blamed "enablers" in his entourage for making the situation worse. "This is a case of abuse of medications," Oxman told CNN. "This is not something which had been unexpected. Because of the medication that Michael was taking, his family had been trying for months and months and months to take care of Michael Jackson. The people who have surrounded him have been enabling him." Toxicology tests will be carried out on Jackson's body and an autopsy is likely to be conducted Friday.
News of Jackson's death caused an Internet meltdown as people rushed online to get the latest information. As tributes poured in from around the world, those closest to Jackson were left stunned beyond words by their loss.
A spokesman for Elizabeth Taylor, a long-time friend of Jackson's who stood by him through the highs and lows of his career, said the actress was "too devastated" to comment.
"For Michael to be taken away from us so suddenly at such a young age, I just don't have the words," producer Quincy Jones said. "To this day, the music we created together on 'Off the Wall,' 'Thriller' and 'Bad' is played in every corner of the world and the reason for that is because he had it all - talent, grace, professionalism and dedication. He was the consummate entertainer and his contributions and legacy will be felt upon the world forever."
Born in 1958, Jackson made his musical debut with four of his older brothers in the Jackson Five before embarking on a solo career. His 1982 album Thriller - which included the hits Beat It, Billie Jean and Thriller - is still the best-selling album of all time, with more than 26 million copies sold.
In 1994, Jackson married Lisa Marie-Presley, daughter of another music icon Elvis Presley. The marriage lasted less than two years. Jackson later married Debbie Rowe, a 37-year-old nurse he met while undergoing plastic surgery in 1997. They had two children - Prince Michael and Paris Michael Katherine - before divorcing in 1999. Jackson had a third child - Prince Michael II - whose mother's name has never been made public. "I am so very sad and confused with every emotion possible," Lisa Marie-Presley said on learning of her ex-husband's death. "I am heartbroken for his children, who I know were everything to him, and for his family. This is such a massive loss on so many levels, words fail me."
Jackson leaves behind a complex legacy. A multimillion-dollar grossing star, he donated a significant portion of his fortune to charities and noble causes. But in recent years, the megastar found himself down on his luck - first plagued by child molestation lawsuits and then financial trouble.
Even as his appearance altered dramatically over the years, Jackson consistently denied undergoing plastic surgery. Rev Al Sharpton, a civil rights activist, described Jackson as a "historic figure", saying: "Michael Jackson made culture accept a person of colour way before Tiger Woods, way before Oprah Winfrey, way before Barack Obama." He added: "Many ridiculed him. It's amazing to see how many people are now praising him that wouldn't go near him in the last several years. In our last conversation a couple of months ago when I was teasing him I was coming to England to see him perform again, he talked about how many people had let him down.
I told him it didn't matter, he had never let the fans down." Jackson had hoped to bounce back from his troubles with a comeback concert in London on July 13 for which the singer was rehearsing on Wednesday night, just hours before fate cruelly brought the curtain down.