COLUMNS

THIS ABOVE ALL
TELEPROMPT
GOOD MOTORING
AUDIO SCAN
MUSIC ZONE
WEBSIDE HUMOUR

FOR CHILDREN

CROSSWORD
ROOTS
RHYME TIME

Earlier Feature
TELEVISTA
Saina soars high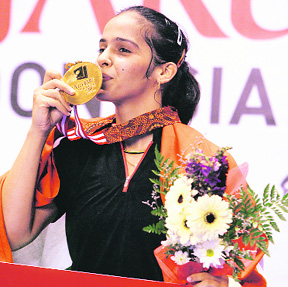 M. S. Unnikrishnan on badminton ace Saina Nehwal, the first Indian to win a Super Series title and one of the only two "outsiders" among the top 10 in women's ranking, otherwise dominated by Chinese players
Saina Nehwal has conquered new frontiers which no Indian woman shuttler could ever dream of achieving in the past. Saina's title win at the Super Series Badminton Championship in Djarkata (Indonesia) last week was at par with a Grand Slam victory in tennis. Super Series is the highest category in badminton. The win fetched her 900 points. Her world ranking will now go up from the present eighth to the sixth place. She also earned $18,750 as prize money and will get Rs 2 lakh reward from the Badminton Federation of India.
Tashan of torn jeans
Indian designers are using denim to create a vast variety of looks, writes Vimla Patil
When Tashan was released in April last, Kareena Kapoor acquired the title of the 'bindaast girl of Bollywood' with her portrayal of the village girl who becomes the curve-revealing moll of gangster Anil Kapoor. Tashan may well be forgotten, but Kareena has not allowed anyone to forget her portrayal of the devil-may-care zero-size siren who, in a memorable scene, boldly chopped off her jeans to make instant micro-mini-shorts to rivet the attention of Saif and Akshay Kumar, who shared her adventurous journey in search of the gangster's loot.
Life's Lessons
Good luck, bad luck
There is a Chinese story of an old farmer who had an old horse for tilling his fields. One day the horse escaped into the hills and, when all the farmer's neighbours sympathised with the old man over his bad luck, the farmer replied, "Bad luck? Good luck? Who knows?" A week later the horse returned with a herd of wild horses from the hills and this time the neighbours congratulated the farmer on his good luck. His reply was, "Good luck? Bad luck? Who knows?"