The King of hearts
City fans bid adieu to Michael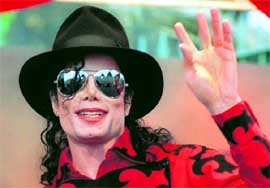 Jackson, the maverick musician, who thrilled generations with his Moonwalk
Creating frenzy, stirring emotions, moistening eyes and making waves, that's what the news of Michael Jackson's death did to all music lovers world over. Sticking to the television screens, glued to Internet, the world missed its heartbeat as the news flashed the screens-'King of Pop dies at 50'. And what followed was unlimited rush of SMSes-that spelt broken hearts and wet eyes.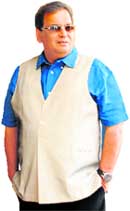 It's showtime
He probably has never had a competitor in life, for he has always looked at success as a fight between his own works. At the same time, resting on his own laurels has never given him pleasure. For the man who has brought in the 'real show' to the show industry, moving with the flow is not a necessity, neither an acquired art, but an acceptance that comes with over three decades of experience. Subhash Ghai, the director, producer and writer has to enjoy something first to translate it into a film, which might not be able to sustain at the box office. Read Yaadein, Kisna. "It is part of the business. There are constant highs and lows," says Ghai, in the city for the auditions of Whistling Woods Actor Studio at Fun Cinemas.



Nature's bounty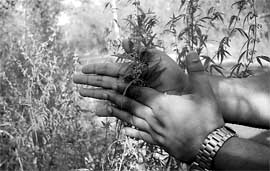 A man plucks cannabis leaves that grow in abundance behind the PGI, Sector 12 Lifestyle photo:Pradeep Tewari
Unreasonably entertaining
Akshay Kumar believes in entertaining audiences even if his films come with an 'illogical' tag. He admits that his forthcoming Kambakkht Ishq belongs to the same category. "I don't want to get into logical films... I am happy doing films where one can keep discussions around logic at home," says Akshay Kumar. "I want people to come with their parents and children, munch popcorn while the movie plays, get entertained, have some nice lunch or dinner after the show ends and then go back home happy and smiling," he added.
Death of the guru
As an era in pop music comes to an end with the sudden death of Michael Jackson, one of the Bollywood best choreographers Farah Khan remembers the 'King of Pop' as her guru. "I officially had no training in dance and whatever I learnt was from watching Michael Jackson by watching his videos, especially Thriller over and over again. I consider him as my guru," Farah said.


Green platter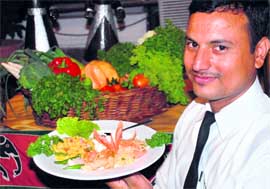 A veggie delight awaits food lovers at Aroma-22, with their annual food festival SubzBagh. The best of vegetarian delicacies are on display at their Cascade restaurant, a good pack of items like soups, pulaos, salads and curd. Some specifics include mushroom and paneer delicacies.
Winner takes it all
With the spurt of soul enriching activities in the realms of literature, music, theatre, films and Bollywood celebrities frequenting here, City Beautiful is no more a "pathron ka shehar " but really transformed as a cultural hub. Adding a new dimension to the composite city cultural, the Department of Tourism and STEPS of the Chandigarh Administration has for the first time ventured to hold a competition to pick up the "Voice of Chandigarh-2009".
No child's play
What's common between a kindergarten class, a hi-end designer showroom and a library? Don't rake your neurons, here's the point- customised furniture. Be it institutions or designer retail outlets, if you want impressive clientele, you need impressive ambience.
Of predator & prey
You love wildlife. Being part of it ever since childhood, mostly as a predator and sometimes as a prey. But now that the pleasure of hunting is a thing of the past, how do you still continue your affair with tigers and lions? Pick up a Nikon D2X and start shooting them of course! Like Jaskaran Sandhu, whose wildlife photographs are currently on display at the Government Museum and Art Gallery-10 under the title 'Victims of Mankind'.
Tadka maar key!
If you are looking for hot, tasty, clean and fresh food, dig into the delicacies at Nagpal Dhaba

If in Punjab, one thing you can be sure of, no one can go hungry. For, this is the land of dudh, dahi and makhan. And talking about the most loved city of Punjab—Chandigarh, there is no dearth of food and restaurants here, but what we are looking at is the ubiquitous dhaba, and our city has no dearth.


If you are looking for hot, tasty, clean and fresh food, dig into the delicacies at Nagpal Dhaba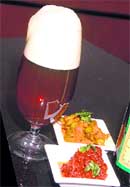 Beer with us!
The association of beer and human goes back to as far as cultivation of crops. And for beer lovers, the launch of five new flavours is more than good news. It was on Thursday evening that TVB Craft Brewing Company announced the launch of Little Devils craft beer. Available in five flavors of beers and ales we ask, what differentiates the Little Devil's Beer & Ales from the typical light mass-market lager style of beers. "The difference is simply in the superior taste and aromas due to increased percentage of specialty malt, hops and other ingredients. These ingredients give the beers and ales a fuller, more complex flavour and aroma that can remind you of banana, citrus fruits, flowers or herbs.
Spice up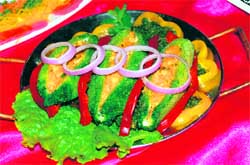 Food note
Think Punjab and you are sure not to go hungry. For, this is the land of plenty, especially when it comes to food. And believe us, this baking summer is no deterrent for the foodies as they live to eat. And targeting the Punjabi clientele, is Moti Mahal-17; that gets for you a 10-day Punjabi food festival. Serving the authentic Punjabi food to whet you appetite is khana tadka mar ke, in true Punjabi style.
Spice up
Foot work
Since the ancient times, techniques of foot relief were practiced both in India and China, because it was recognised that the feet needed special care. In fact, it gave birth to the art of reflexology, which recognises that different areas of the feet actually correspond to different parts of the body. It grew out of the belief that healing the feet actually helped in healing the body.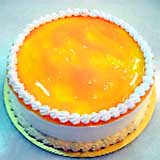 Bon Appetit
Aam, but not so aam
When I have eaten mangoes, I have felt like Eve.
— Rose Macaulay, British novelist
Beautiful, golden, seductive and succulent, the mango reigns supreme in the fruit kingdom. My dad maintains that the downside of summer heat maybe the sweat and the "loo" but the upside, heavenly, juicy mangoes, melons and tarbooz more than make up for the discomfort! It's even believed that the more grilling the heat, the sweeter the melons!