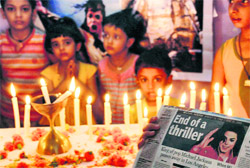 Students of the Michael Jackson Institute of Dance light candles to mourn the death of the pop star in Jammu on Saturday. PTI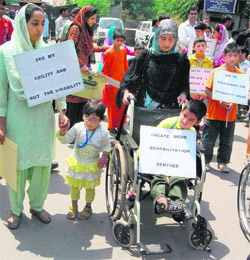 Special children hold a protest in support of their demands in Srinagar on Saturday. A Tribune photograph
1 killed, 8 hurt as bus rams into shop
Udhampur, June 27
The conductor of a passenger bus was killed and eight others injured when a mini-bus rammed into a dhabha near Ramban on the Jammu-Srinagar Highway today.
'Speed up' construction work at Jagti
Jammu, June 27
The All India Kashmiri Samaj led by its president Moti Koul, who was accompanied by Kashmiri Pandit Sabha president, Jammu, AN Sadhu yesterday visited Jagti, two-room tenements, which are under construction under the Prime Minister's Relief and Rehabilitation Plan for Displaced Kashmiri Pandits.
10,990 pay obeisance at Amarnath shrine
Srinagar, June 27
Around 10,990 pilgrims had darshan at the Amarnath cave shrine yesterday when the pilgrimage via the traditional Pahalgam route began.
Distress call to welfare home goes unheard
Jammu, June 27
A distress call to Neha Ghar - government-run welfare home for the distressed and delinquent women - by a city businessman got a shocking reply - "Sorry, we can't come".
Transformers damaged in fire
Jammu, June 27
Electricity transformers and paper worth lakhs of rupees gutted in two separate incidents of fire in Gangyal Industrial Estate here yesterday.
Pandith clan exalted over Farah's achievement
Srinagar, June 27
The Pandith clan of Kashmir feels exalted following the appointment of Farah Pandith as US Special Representative to reach out to the Muslim world.
Secretary of State Hillary Clinton announced the appointment of Kashmiri-origin Pandith to the post for engaging the 1.5 billion Muslims across the globe.
Food samples lifted, 100 challaned
Jammu, June 27
To ensure the availability of hygienic food items in the city, the Jammu Municipal Corporation (MC) lodged 100 challans against various shopkeepers, besides lifted samples of food items from variious places.
2 youths held on rape charge
Srinagar, June 27
Two youths were arrested today for allegedly abducting and raping a teenaged girl in Shopian on June 23.Mushtaq Ahmad Bhat and Mudasir Ahmad Bhat, both residents of Tungdona-Yaripora kulgam, were arrested following a report lodged by Sayar Ahmad Bhat, a resident of Allura-Zainpora, 55 km from here, complaining that his sister was kidnapped by the duo on June 23, a police spokesman said.
Woman killed in mishap
Jammu, June 27
A woman pilgrim was knocked to death by a bus on the Sidhra bypass in Nagrota, near here, today.Confirming the incident, the investigating officer from the Sidhra police post said Nagrani, a native of NTPC Colony of Jeevan Nagar in Andhra Pradesh, was crossing the road in Sidhra when a bus carrying Amarnath pilgrims back to Jammu knocked her down.
Woman commits suicide
Jammu, June 27
Mystery shrouds the death of a 24-year-old married woman, who allegedly consumed poison at her in-laws house at Badyala Chak village in Akhnoor subdivision today.Official sources said Nisha Devi allegedly consumed poison at her in-laws house in Badyala Chak around 3 am.
Domestic help commits suicide
Rajouri, June 27
A domestic help allegedly committed suicide after being "mentally tortured" by his landlords in the Danidhar area, near here, today.He has left a suicide note in his pocket in which he had reportedly held his landlords responsible for the extreme step by subjecting him to "mental torture" for the past 12 years.