Suppressed histories
Rumina Sethi
Speaking for Myself: An Anthology of Asian Women's Writing
Eds Sukrita Paul Kumar and Malashri Lal.
Penguin.
Pages 557. Rs 650.
THE purpose behind this anthology of Asian women's writing is laudable: to "encourage the academic world to make space for the inclusion of writing from Asia and provide an opportunity to think about cultural affinities and crossovers". When the two editors, Sukrita Paul Kumar and Malashri Lal, set out to compile the volume, they first checked libraries and bookshops expecting that women's writing would find an easy pathway from India's many neighbours. But, too near was alas too far. It was soon discovered that Western curricula in our colleges and universities, and the market trends that promote Western authors were more or less responsible for the drought in Asian writing. An equally valid explanation is the disinterestedness in translating local literature into English.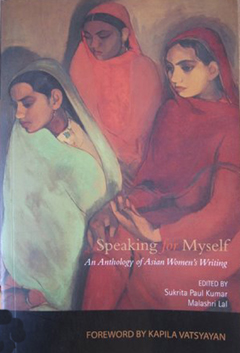 "Invisibility"—the adjective used to describe the indifference of the academia and the publishing industry—has resulted in the absence of Asian writing by women on the shelves of libraries and bookshops. And yet, what is surprising is that these Asian literatures have a far greater visibility in the Western world, a quirk of the publishing brigade that tends to expose such writing to the inevitable dangers of essentialism. Evidently, a greater dialogue is called for between Asian and Western publications which would be receptive to the oriental reality than present a partial picture from a distant horizon. The two editors have put together this collection for precisely these reasons.
Although the last three decades have witnessed numerous edited books about women written by women, the achievement of which in terms of sheer weight is incredible, one still wonders whether there exists a sense of freedom among women. One thing is clear: women have not been represented evenly, and, to say the least, adequately. While this may be spoken of women across the board, Asian women, in particular, are seldom "showcased" on equal terms with Western women. We are scarcely familiar with many of our women writers except perhaps a few such as Anita Desai, Shashi Deshpande, Mahasweta Devi and Kamala Das, again examples that have been promoted by the Western press.
On the other hand, even as we may deplore the circumstances in which a Jane Austen had to write competing for space with Sir Walter Scott, or sympathise with a George Eliot who had to publish under a byline, we are at least familiar with their major writing. Even black women writers like Toni Morrison and Alice Walker are known among the educated elite. But who has heard of Kishwar Naheed, Banira Giri, Rizia Rahman and Yangtso Kyi? Kumar and Lal must be given credit for putting together a collection which includes writers from not only the Asia we know but lesser known and recognised locales of Azerbaijan, Mongolia, Vietnam, Myanmar, Cambodia, Sumatra, Macau, Tajikistan, Lebanon and Yemen.
The issues they raise relate to women's preferences and imagination, perceptions of shame and integrity, constructs of the beauty myth as shaped by culture, the workplace and the family. And yet, there is no attempt to limit these women's voices to their countries or arrange them neatly according to themes since the editors want to remain faithful to the unconscious filtration of myths and symbols and the exchange between cultures that should be the hallmark of gynocentric writing, especially since many languages such as Punjabi, Urdu, Bengali, Tamil and Sindhi are not spoken in just one country.
What brings these different writers together is their portrayal of the dignity and courage with which Asian women conduct their everyday lives, qualities which find resonance in their writing. Apart from a few contributors who play on the overt commodification of women by the existing patriarchy (such as Taslima Nasreen from Bangladesh and Hanan al-Shaikh from Lebanon), most of the writers do not target men as is expected in feminist writing. On the contrary, themes relating to the disenchantment of playing womanly roles, the relationship between mothers and children and between women themselves, political repression of the state, sexuality, exile and homeland are recovered from the memorable writings of Fadwa Tuqan of Palestine, Afagh Masud of Azerbaijan, Geyang of Tibet, Bi Shu-min of China and many others.
It is certainly not easy to work out the pattern of inclusion and exclusion in an anthology: which writers to retain and which to let go, decisions regarding the number of writings per writer, the question of equal representation between writers coming from dominant Asian countries like India and China as compared with those belonging to less developed countries, and whether to cluster writers according to themes, languages or geography. Sukrita Paul Kumar and Malashri Lal have exhibited the ability to surpass these challenges by bringing out a collection which will be valued by our research students and colleagues in years to come.