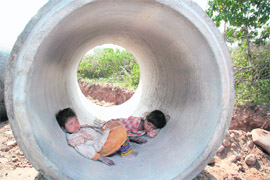 These children of manual labourers try to escape the scorching sun by taking shelter in a pipe in Jammu. Photo: Inderjeet Singh
Security plays spoilsport for Delhi family
Srinagar, June 28
Things went haywire for a Delhi couple after a nice vacation in Kashmir when tight security for separatist protests and alleged mishandling of the situation by a private airline led to the separation of its nine-year-old daughter.
Hotels' body seeks inclusion of Jammu in tourism projects
Jammu, June 28
The All-Jammu Hotels and Lodges Association (AJHLA) has rued the discrimination against the Jammu region in respect of the conservation and preservation of the water bodies as well as the development of the tourism.
Fee hike: 6-day ultimatum served
Jammu, June 28
A six-day ultimatum served on the government by a group of parents and activists of the Nirbhow Nirbair Organisation in a protest demonstration held today at the Jewel Chowk.
Child rescued from kidnapper
Srinagar, June 28
The police today rescued a child who was kidnapped by a man hailing from Kanpur in Uttar Pradesh. The kidnapping had sparked protests here early this week. The police said the accused was a member of an inter-state gang of kidnappers.
PDP flays govt for power shortage
Jammu, June 28
The PDP has accused the NC-Congress government of failing to meet the expectations of the masses.
MP apprised of problems in Nagrota
Jammu, June 28
A deputation of the Nagrota constituency development committee led by its president Verinder Sharma called on Madan Lal Sharma, MP from Jammu-Poonch.
Pilgrim dies on way to Amarnath
Srinagar, June 28
A 65-year-old pilgrim died of cardiac arrest on his way to the holy cave shrine of Amarnath in south Kashmir Himalayas.
Pak intruder shot dead in Akhnoor
Jammu, June 28
Security forces gunned down a Pakistani intruder while he was trying to infiltrate into the Indian side near a border outpost in Akhnoor sector late last night.
Cong leaders making 'contradictory' remarks: Gupta
Jammu, June 28
Former Union Minister and BJP legislator Prof Chaman Lal Gupta today accused leaders of the ruling party in Centre of giving contradictory and confusing statements on sensitive issue of national security like troop reduction from Kashmir valley.
Saraf's death mourned
Jammu, June 28
Various leaders of different organisations today condoled the demise of RP Saraf, a veteran freedom fighter, political leader and a social scientist, who died on June 24.
One dead, nine hurt in road mishaps
Jammu, June 28
One person was killed and nine were injured in various road accidents in the Jammu region today.
Fear grips Rajouri after couple's murder
Rajouri, June 28
Fear has gripped the Kandi-Buddhal and Kakakote areas in this border district after suspected militants gunned down a couple on Friday night in Danna Kandi here.
Accused named by suicide victim still at large
Rajouri, June 28
A day after domestic help Ahmed Khan (45), hailing from Chandimarh in Poonch, in a suicide note named his masters Manzoor Khan and Shakoor Khan for mentally torturing him for taking the extreme step, the police is yet to arrest the accused.