EDUCATION
JOBS & CAREERS
HEALTH & FITNESS
SCIENCE & TECHNOLOGY
REAL ESTATE
SPORTS
TRIBUNE CLASSIFIEDS
Security forces capture hub of tribal agitation
Kantapahari (WB), June 29
Security forces today took control of Kantapahari, setting up a police camp after four years in the hub of Maoist-backed tribal agitation, with the West Bengal Government claiming that 95 per cent of the areas have been wrested from the ultras in West Midnapore district.
Attacks in Oz
File report within two weeks: SC to govt
New Delhi, June 29
The Supreme Court today expressed concern over unabated attacks on Indian students in Australia and directed the government to file a comprehensive affidavit within two weeks about steps taken by it to ensure their safety.
Mob on rampage at Bathinda refinery
Phulokhari (Bathinda), June 29
The police resorted to lathi charge and opened fire to disperse a mob that went on rampage at the Guru Gobind Singh oil refinery at Phulokhari village, 45 km from the district headquarters of Bathinda, this morning.
NDA 60 Glorious Years
1857 The First Challenge
E - Revolution 2005:
A Two-day IT conclave
Assembly Elections - 2005
Turbans
Chandigarh is 50
125 Years of The Tribune
India: The Tasks Ahead
India at Sixty
A Tribune Supplement
EARLIER FEATURES
On Sundays
On Saturdays
Grain Procurement
Punjab runs up losses to sustain farmers
Chandigarh, June 29
Has Punjab been pushing itself deep in debt to keep its farmers afloat? Or is it paddy cultivation alone that has been pushing the state into a socio-economic crisis?
10 years after Kargil
A tough call for jawans
But heated barracks, best of winter wear, phone and TV facility makes it a tad easy for them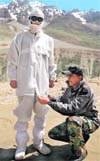 It is the last week of June. Most parts of the country are reeling under an unprecedented heat wave. But, the Drass-Kargil sector is gripped by icy winds. Wearing thick jackets, we brave up to a height of 15,000 feet to get a closer look into the lives of Army men who guard the Line of Control between India and Pakistan.
A jawan helps adjust the multi-layered water proof and wind proof snow clothing provided to his colleague in the Drass-Kargil sector. Tribune Photo: Mukesh Aggarwal

IAF cargo seized at Helsinki airport
New Delhi, June 29
An Indian Air Force (IAF) cargo of aircraft equipment to Moscow has been confiscated at Helsinki airport by Finnish Customs after it was found without valid papers. The consignment was on a Finnair flight from Mumbai to Moscow when it was stopped during transit at Helsinki on May 28, Defence Ministry sources said here today.


No drought-like situation
June 29, 2009
Region sizzles as power plays truant
June 28, 2009
Bill on judgesí assets soon
June 27, 2009
Maoists strike as PC visits Orissa
June 26, 2009
Poor monsoon this year
June 25, 2009
Maoists ready for talks, truce
June 24, 2009
CPI-Maoist declared terror outfit
June 23, 2009
Advani stands by Jaitley
June 22, 2009
Lalgarh thana recaptured
June 21, 2009
Govt returns Gujaratís anti-terror bill
June 20, 2009
Crackdown begins to reclaim Lalgarh
June 19, 2009