End of road for highway robbers
Kingpin, 3 others, including son of a UT cop, arrested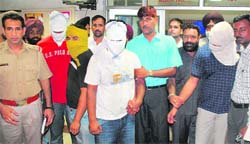 Chandigarh, June 30
A day after the highway robbers looted over Rs 4 lakh from a shop in Ludhiana, the Chandigarh Police today arrested the kingpin of the gang, Jaipal Singh, and three of his accomplices, including son of a Chandigarh Police inspector.

Highway robbers being taken out from Govt Hospital, Sector 16, Chandigarh, after medical examination. Tribune photo: Pradeep Tewari


Rights panel fights for abolition of death penalty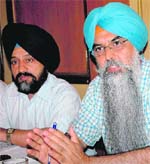 Chandigarh, June 30
While more than two-third of the world's countries have abolished giving death penalty to convicts, Lawyers for Human Rights' International in coalition with an international body are fighting against death penalty in the city.






Members of the Lawyers for Human Rights' International speak at a press conference in Chandigarh on Tuesday. A Tribune photograph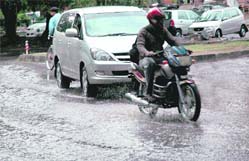 June gets least rainfall in 10 yrs
Chandigarh, June 30
Even though last night's downpour lashed the city just at the right time when the residents had been struggling with sweltering heat, the city has recorded the lowest rainfall in the month of June in a decade.

Blissful showers! Following the scorching heat, the city experienced the onset of monsoon on Monday night.Tribune photo: Manoj Mahajan
No end to power, water woes
Southern sectors worst affected
Chandigarh, June 30
There seems to be no end to power and water woes of the city residents. Even as the residents got some respite from the sweltering heat following rain, some areas of the city were without power and water for hours.
Councillors walk out over Mayor's helplessness
Chandigarh, June 30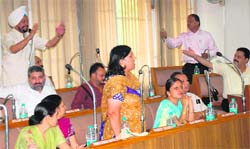 The Mayor's authority came under question in today's House meeting of the Municipal Corporation and the issue was enough for the councillors to walk out in the middle of the session. Consequently, the scheduled agenda for this special 142nd meeting could not be deliberated upon. Later, during a councillors' meeting, it was unanimously decided to refer the matter to the Home Secretary-cum- Secretary, Local Government, Ram Niwas.
Councillors create uproar in the MC House meeting on Tuesday. A Tribune photograph
17 latecomers caught at RLA office
Chandigarh, June 30
UT SP (vigilance) Rajinder Singh Ghuman today conducted a surprise check at the Registration and Licensing Authority (RLA) office and caught 17 latecomers.
2 more suspected swine flu cases in city,1 tests negative
Chandigarh, June 30
Two fresh cases of suspected swine flu were reported at the hospitals here late last night. However, one of them was discharged today from GMSH-16 after his samples were found negative.
Spread of cholera, malaria
Panel fails to submit report
Mohali, June 30
The committee set up by Deputy Commissioner Prabhjot Singh Mand to look into the reasons, which led to the spread of cholera and malaria in Mohali village, has failed to submit its report today even when June 30 was fixed as the deadline in this regard.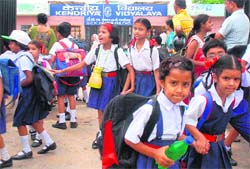 Students of Kendriya Vidyalaya's attended the school for half day on Tuesday, the KV schools will now re-open on Monday following the UT administration's orders. Tribune photo: Pradeep Tiwari
Revenue sharing new mantra
Chandigarh, June 30
Revenue sharing is the new mantra of doing business in the heart of the city-- Sector 17. The ongoing global meltdown has forced the big brands to say adieu to the franchisee and minimum guarantee agreements with the landlords and shopkeepers and opt for revenue sharing in the trying times of recession.
Mohali beautification plan hits roadblock
Mohali, June 30
An ambitious plan of the Punjab Infrastructure Development Board (PIDB) to beautify and widen city roads has hit the roadblock, with questions being raised by GMADA about the practicality of the proposals.
Shifting of Slums
Residents of Sec 50, 51 hold protest march
Chandigarh, June 30
Residents of Sectors 50 and 51 held a protest march to oppose the proposed shifting of slums from different areas of Chandigarh behind Colony No 5 by the Chandigarh Administration.
City architect designs first green hospital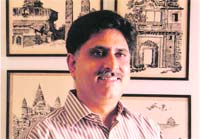 Chandigarh, June 30
The country's first green hospital — All-India Institute of Medical Sciences at Rishikesh — will have a Chandigarh tag to it as it is being designed by Surinder Sawhney, a city architect. Son of former Punjab Director-General of Police CK Sawhney, Surinder has been chosen through an open international design competition.
Surinder Sawhney
Aasra for attendants at GMCH-32
Chandigarh, June 30
Punjab Governor and UT Administrator S.F. Rodrigues today inaugurated the Aasra project, a facility created by the Rotary Club Chandigarh Midtown for attendants of patients at Government Medical College and Hospital (GMCH), Sector 32, here this evening.
Training in Hindi
SBoP hosts committee meeting
Chandigarh, June 30
The State Bank of Patiala (SBoP) has hosted a meeting of Coordination Committee on Training in Hindi.
A few security agencies appear for registration
Chandigarh, June 30
With the deadline for security agencies to register themselves with the UT administration expiring today, the DC office has finally decided to crack the whip against the erring agencies.
Chief Info Commissioner to meet RTI Users Association
Chandigarh, June 30
Chief Information Commissioner, Punjab, Ramesh Inder Singh has invited the RTI Users Association for a meeting on July 2 in response to a letter and mail sent by HC Arora, convener of RTI Users Association to him.


Sports Quota Seats
Admission to class XI tomorrow
Chandigarh, June 30
As per the instructions of the administration, the admission to sports quota seats to class XI in the UT government schools are scheduled to be held on July 2.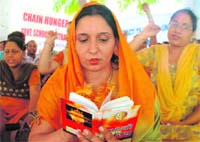 A contractual teacher recites a 'paath' while other teachers sit on a hunger strike demanding regularisation of their services in Chandigarh on Tuesday. Tribune photo: Manoj Mahajan
PU, London varsity tie-up soon
Chandigarh, June 30
If all goes well, Panjab University might soon have some of its departments collaborating with counterparts from Oxford Brookes University, London. Speaking about the prospective collaboration PU Vice-Chancellor RC Sobti said:"I went there as part of the UGC programme and the visit was quite fruitful.
786 teachers update skills in training
Chandigarh, June 30
In an effort to update skills of in-service teachers, training courses were organised during summer vacations for 186 teachers of AIE centres and 600 teachers of regular schools under the Sarva Shiksha Abhiyan, Chandigarh.