Rising in down times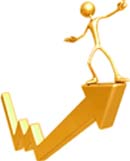 When the going gets tough, the tough need to open their minds to new and different careers and jobs, writes USHA ALBUQUERQUE. Here are some options after graduation where you can use your talent and shine irrespective of the ups and downs of the economy
RECESSION, job losses and layoffs have become integral to our every day vocabulary, causing a great deal of fear and confusion among students graduating from colleges this year. Will I get a job? Where should I work? Should I continue studying?


Careercature
Sandeep Joshi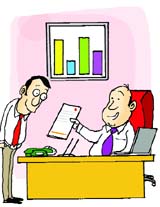 As per our promise to give you a raise, we are transferring you to our branch in the Himalayas!

Career Hotline
Pervin Malhotra


This column appears weekly. Please send in your queries, preferably on a postcard, along with your full name, complete address and academic qualifications to: The Editor, Jobs and Careers, The Tribune, Sector 29, Chandigarh-160030, or at careers @tribunemail.com
n Converting wood into paper
n Understanding who we are
n Ensuring health standards
n Contributing to rural development
n Be an education specialist
n To a bright future!




Banking leads the way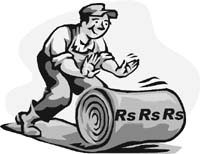 Crowned highest job generator in Q1 FY'10 followed by IT/ITeS sector
THE banking sector has emerged as biggest job generator in the first quarter of the current fiscal with the segment increasing headcount by more than 16,000, a survey by the industry body Assocham has found. The sector topped the chart with the highest number of job announcements at 16,200 during first quarter of 2009-10, it said in the survey on 'Headcount Expansion Activities'.
Course chat
TNAU launches e-registration of courses


TAMIL Nadu Agricultural University (TNAU), the first such varsity in the country to implement ICT-based teaching, has introduced e-registration of its courses. Students can log on to TNAU Student Management System portal and e-register for the courses, TNAU sources said. This would help the university save on stationery and cutting down time for teachers and students.
Being BOSS
Praise makes the world go round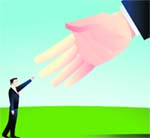 Shower ample praise on your team members and see them give the task at hand their 110 per cent
TALKING about his workforce, a boss once said, "I pat once and thrash thrice!" Perhaps he was right. Psychological studies have revealed that once the person at the helm of affairs pats a worker, the latter's dedication, hard work and sincerity is in overdrive. Even minor criticism doesn't matter then! Even very simple kind acts on the part of the boss encourage team members to do their best.
The big choice


Fringe benefits or jobs?
Battling slowdown, companies add more responsibilities to job roles to get maximum value from employees
AS the slowdown refuses to go away, corporate HR professionals are under severe pressures to work out innovative ways and means to cut unnecessary organisational frills and reduce fringe benefits such as bonus, LTC and other allowances besides curtailing administrative costs.