Delhi High Court legalises gay sex
R Sedhuraman
Legal Correspondent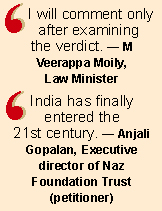 New Delhi, July 2
The Delhi High Court today legalised gay sex among consenting adults, ruling that Section 377 of the IPC, which treats such acts as a criminal offence, runs counter to people's fundamental rights to personal liberty, equality and non-discrimination guaranteed under the Constitution.
"We declare that Section 377 of the IPC, insofar it criminalises consensual sexual acts of adults in private, is violative of Articles 21 (personal liberty), 14 (equality) and 15 (non-discrimination) of the Constitution," a Bench comprising Chief Justice Ajit Prakash Shah and Justice S Muralidhar said.
The court, however, clarified that the provisions of Section 377 of the IPC "will continue to govern non-consensual" gay sex involving minors. It also clarified that everyone who was 18 years of age or above would be treated as an adult for the purpose.
The ruling would be valid till Parliament amended the law on the recommendation of the Law Commission of India that felt that there was an "urgent need" to follow global trends on the issue of sexual offences and delete the controversial section.
The judges also made it clear that the verdict "will not result in the re-opening of criminal cases involving Section 377 that have already attained finality". The move was also necessary to effectively combat AIDS menace, the court said.
The 105-page verdict sparked instant jubilation among gay activists assembled outside the court as they hugged and congratulated one another.
Interestingly, the Union Home Ministry had opposed the petition, while the Health Ministry wanted legal approval to gay sex.
The high court pointed out that the Centre's admission that the section was generally used in cases of sexual abuse or child abuse "shows that criminalisation of adult same-sex conduct does not serve any public interest".
The court did not agree with the government's contention that legalising gay sex would open the floodgates for such tendencies in society. There was no study to support this view, the Bench averred. It also refused to accept the morality angle. "If there is any type of morality that can pass the test of compelling state interest, it must be Constitutional morality and not public morality," the court ruled.