Pourpourri
Nothing like curling up with a book on a rainy day. We check out the pet reads of some tricity youngsters for this season…
Manpriya Khurana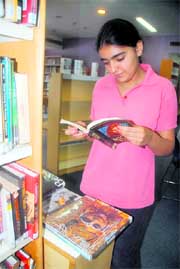 Pardon the poetry, the prose and the praise in the language, but people, it's monsoon! And over romanticizing everything around just can't be helped. Jane Austen, John Keats to our very own Munshi Premchand, which author did not give in to the titanic power of tiny drops? And who can forget Ruskin Bond and his fantasy world comprising nature, monsoon and mountains. Before the drizzle outside puts us in a daze, we check out if curling up with a book figures in the list of 'rain must -dos'. Here's bringing you people's favourite reads for the monsoons.
"There are many options to enjoy when its pouring outside, go for a long drive, just watch the raindrops, but somehow the idea of picking up a book while sipping something hot wins hands down," Shruti Singh, B.Com student and avid reader declares.
Reading is for sure, reading what can come later. As Ankita Sohal says, "I'd love to read no doubt, given the weather, but I don't think my reading preference would change just because it's raining. Sidney Sheldon is my all-time favourite author and I would invariably pick him up only," adds the Class XI student.
Veralika Singh, chemical engineering student from Panjab University, would prefer to pull out a romantic comedy. "I guess, it would be something light or a romantic comedy. Something on the lines of Bridget Jones Diary."
Back to the beginning and back to the prose, dark clouds, sound of pitter-patter, earth awash, liquid clear.
Doesn't it change the genre preference? Agrees, Manav Batra, an architect, "I generally like to read car magazines, or books on interior designing, but there's a change in mood during the rains, so naturally there'll be a change in reading preferences. May be I'd go for Paulo Coelho."
Ankita Sharma, biomedical engineering student, stresses on the suitability of Jane Austen for the occasion. She says, "In her books, there are many different worlds, where anything as simple as rain is a celebration, a festival. An elaborate affair." So what if currently the girl's clued into Dan Brown? The sudden change in inclination corresponds to the equally abrupt transformation from volcanic temperature winds to cool breeze.
Agrees Shruti, "Even if we look at the complete Indian culture, hardly any folk song, tale or celebration is complete without celebrating the monsoons. This is in large part also due to ours being an agrarian economy. Many livelihoods are dependent on the rains. Just look at the amount of festivals like Teej totally dedicated to the season."
That's not it. Henna Bajaj, fashion designing student, smiles, "I'm not into reading, rather I write. So, I would like to write. I generally write poems." There we go!
The season can actually be the right time to get introduced to poetry. With the whole world washed in melodrama, suddenly the rhythm and rhyme might just start making sense, appear more interesting, even intriguing!
manpriya@tribunemail.com
Oops…which is this book?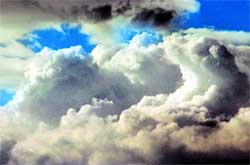 While on the subject of reading, writing or even rewriting rains, hard not to bring up the monsoon classic, Chasing the Monsoon by Alexander Frater. A book where it all begins with the rain and ends with the rain! Where the prologue begins, 'The first sounds I ever heard were those of falling rain.'
An account of a journey in pursuit of the monsoons, all the way across the Indian subcontinent. An insight into what tropical rains are like and what monsoon does to India.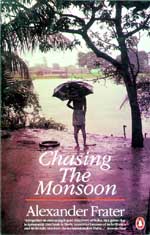 "It is an old book, a classic and though not exactly a best seller, but, yes, we have, so far, sold 10 to 15 copies," informs Anil Sharma, sales manager, Browser's—8. So much for the title. But have the current crop of students read it, know about or at least heard of it? Reejh Kaur, BSc.
I student, student, doesn't even get the name right. "Sorry, what did you say?" We repeat the title. She adds, "Well, no I haven't heard of it. Rather, I'm not into reading very much, I read comics though." Take another. Kanika Jain, a home science student, declares, "I don't think so, I've ever heard of any such book. But yeah, if the plot is interesting I would like to give it a shot."
And even before the name Chasing the…can be mentioned, Amandeep Sarao, declares, "I wouldn't have heard of it. I'm not into reading at all. It requires too much of patience." To each his own!