PUNJAB
HARYANA
JAMMU & KASHMIR
HIMACHAL
REGIONAL BRIEFS
NATION
OPINIONS
LETTERS
BUSINESS
SPORTS
WORLD
BRIDES WANTED
GROOMS WANTED
OTHERS
HOW TO PLACE ADVTS
Saturday, July 4, 2009, Chandigarh, India
Updated at 3:00 am (IST)

No hike in fare, freight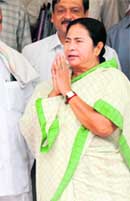 New Delhi, July 3
As expected, Railway Minister Mamata Banerjee presented the new UPA government's first rail budget of for the 'aam aadmi' (common man) without tinkering with passenger fares or freight tariffs and instead focusing on passenger amenities.


List of new trains

Chandigarh, Amritsar to get world-class facilities
Mamata takes a swipe at Lalu; spares Tatkal scheme
New Delhi, July 3
The simmering political rivalry was to the fore as Railway Minister Mamata Banerjee did not hesitate in taking a swipe at her predeces

Budget unrealistic: BJP
CAST YOUR VOTE
Should Indian students continue to go abroad for studies?

EDUCATION
JOBS & CAREERS
HEALTH & FITNESS
SCIENCE & TECHNOLOGY
REAL ESTATE
SPORTS
TRIBUNE CLASSIFIEDS
Mamata silences detractors
New Delhi, July 3
Railway Minister Mamata Banerjee looked a tad nervous this noon as she tiptoed her way into the Lok Sabha, settling down in the backbenches despite gestures by TMC colleagues to be where she belonged, adjacent to UPA chief Sonia Gandhi.

Railways to get Rs 5,000-crore additional support
Education policy
— A Tribune Debate
The Yashpal Committee on educational reforms and the plans announced by the new HRD Minister, Kapil Sibal, have aroused nation-wide interest among parents, educationists and policy-makers.
NDA 60 Glorious Years
1857 The First Challenge
E - Revolution 2005:
A Two-day IT conclave
Assembly Elections - 2005
Turbans
Chandigarh is 50
125 Years of The Tribune
India: The Tasks Ahead
India at Sixty
A Tribune Supplement
EARLIER FEATURES
On Sundays
On Saturdays
Haryana cheers, Punjab sulks
Chandigarh, July 3
The Railway Budget has brought in a lot of good news for Haryana and Jammu and Kashmir, but Punjab has been ignored completely. Other than the plans to turn the Amritsar and Chandigarh Railway Stations into world-class stations, setting up of a multi-functional complex at Anandpur Sahib, starting a first ever non-stop train service between Amritsar and Kolkata, and extending the Sealdah- New Delhi train to Amritsar, no other major incentives have been announced for Punjab.
NAM Summit
Gilani to meet Manmohan
Afzal Khan writes from Islamabad
Prime Minister Yousuf Raza Gilani will meet his Indian counterpart Manmohan Singh on the sidelines of the Non-Aligned Movement (NAM) summit in Sharm El-Sheikh (Egypt) on July 16, the Foreign Office announced here amid continuing pessimism about the prospects of resumption of the stalled composite dialogue even after the forthcoming meeting.
Dawood linked to Samjhauta blasts
New Delhi, July 3
In a startling revelation, the UN Security Council Al-Qaida and Taliban Sanctions Committee has said Lashkar-e-Toiba (LeT) operative Arif Qasmani utilised the money received from underworld don Dawood Ibrahim to facilitate terrorist attacks, including the July 2006 train bombings in Mumbai and the Samjhauta Express blasts in Panipat in February 2007.
Medical institute in doldrums
The project has been hanging fire for 15 years
Jalandhar, July 3
Will the high-profile Punjab Institute of Medical Sciences (PIMS), which was conceived here 15 years ago and to be built with an initial estimated cost of Rs 156 crore, become operational ever? This is the question that begs answer from the state government.
Survey sees 7% growth, urges radical reformsJuly 3, 2009
Punjab to hike taxes to bolster economy
July 2, 2009

Advani, Joshi, Kalyan, Uma indicted
July 1, 2009

Maya under SC radar; reply on statues sought
June 30, 2009
No drought-like situation
June 29, 2009
Region sizzles as power plays truant
June 28, 2009
Bill on judges' assets soon
June 27, 2009
Maoists strike as PC visits Orissa
June 26, 2009
Poor monsoon this year
June 25, 2009
Maoists ready for talks, truce
June 24, 2009