M A I N N E W S
No hike in fare, freight
Girja Shankar Kaura
Tribune News Service
New Delhi, July 3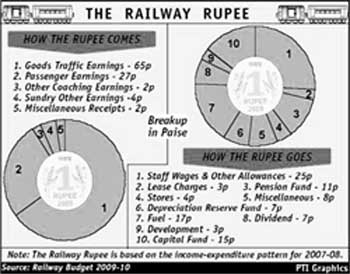 As expected, Railway Minister Mamata Banerjee presented the new UPA government's first rail budget of for the 'aam aadmi' (common man) without tinkering with passenger fares or freight tariffs and instead focusing on passenger amenities.

In her second 'avatar' as railway minister she brought forward from her NDA stint the concept of public-private partnership (PPP) projects, saying the budget will focus on "inclusive growth" and expansion of the rail network to "take development to every corner of the country".

Announcing a slew of measures including launch of 12 nonstop long-distance trains as well as airconditioned double-decker coaches for intercity travel, Mamata also spelt out concessions for the unorganised sector under the 'Izzat' (dignity) scheme.

While her predecessor, Lalu Prasad Yadav, had earlier announced a two per cent cut in passenger fares in the interim budget, she proposed a monthly season ticket of Rs 25 for people with an income of up to Rs 1,500 per month for travel up to 100 kilometres. Other proposals included introduction of 57 new train services, extension of 27 trains and increase in frequency of 13 trains.

The minister also announced special sops for students in Kolkata, for whom concessional monthly season tickets will be also applicable for travel in the city's metro. The concessions will

also be extended to students of madrasahs (Muslim educational institutions).

The minister proposed an outlay of Rs 40,745 crore for FY 2009-10. Of this amount Rs 2,921 crore will be spent on new tracks, Rs 1,750 crore on gauge conversion and Rs 1,102 crore on passenger amenities, which is 119% over and above the funds allocated in the interim budget. Rs 424 crore will also be spent on amenities for railway staff - 79% more than the interim budget.

Mamata also announced a new coach factory would be set up at the Kanchrapara-Halisahar railway complex in West Bengal with an annual capacity of 500 electrical multiple units (EMUs), MEMUs and metro coaches in the joint venture private partnership mode.

She also proposed introduction of 'only ladies' suburban EMU trains in Delhi, Chennai and Kolkata during office rush hours as well as airconditioned 'yuva' trains which, with lower fares, will serve young people and low-income groups. These will run from the major cities to the rural suburbs with fares ranging from Rs 299 up to 1,500 km to Rs 399 up to 2,500 km. Weekly services on a pilot basis will be introduced within three months between Delhi-Mumbai and Delhi-Kolkata.

Timely track renewal, modernisation of signalling equipment and use of digital ultrasonic flaw detectors will be introduced for the safety of train passengers, besides an integrated security system that will be installed at 140 'vulnerable' train stations. All-women Railway Protection Force (RPF) squads for female passengers will also be introduced.

The minister announced a dozen new point-to-point nonstop 'Turonto' (quick) trains and also proposed introduction of airconditioned double decker coaches for intercity travel.

She said 50 'train stations will be developed as 'world class' stations with another 375 to come up as 'adarsh' stations with improved basic amenities. Multifunctional complexes with shopping facilities, food stalls and budget hotels are to be constructed at 50 stations that serve as gateways for tourist and pilgrimage centers or serve industrial clusters.

An 'expert' panel to suggest innovative financing and implementation of the new projects is being set up, she stated. She also announced the formation of a committee under Sam Pitroda, currently chairman of the National Knowledge Commission, to commercialise Indian Railways' optic fibre network.

The minister said priority would be given to bring about a perceptible improvement in cleanliness, quality of catering, safety and security and punctuality of all trains. To improve the cleanliness the onboard housekeeping scheme (OBHS) will cover 200 additional trains. Doctors and infotainment services will be available on long distance trains.

She also proposed 1,000 new locations for passenger ticket reservation as well as expansion of unreserved ticketing system terminals from 5,000 to 8,000. Besides, automated ticket vending machines will be installed at 200 large and medium sized train stations. Computerised ticket reservation at post offices and mobile ticketing service vans were also being considered, she added.

On extension of facilities for the physically disabled, Mamata said there will be more ramps, elevators, escalators and special coaches for physically challenged and aged passengers.

In freight and parcel business, the minister said premium services for container movement with assured transit times was being considered.

The minister said Indian Railways would acquire 18,000 new wagons this fiscal against 11,000 in 2008-09. Private ownership of special purpose rolling stock for commodities and private operation of freight terminals will also be encouraged, she said.

Premium parcel services with guaranteed transit times will be introduced on a pilot basis on three routes initially. Reiterating her priority to extend railway services to farmers, Mamata announced introduction of special trains to ferry perishable farm products like fruits and vegetables as also village handicrafts and cottage industry and textile products from production clusters to consumers.

The minister also announced creation of the Northeast Rail Development Fund for timely completion of national projects in the northeastern region, adding the new Quazigund-Anantnag rail track in Kashmir would be completed by next month.

She also announced concessions for the accredited media persons who will now get an increased concession of 50% instead of the existing 30% on train fares. Spouses can also avail of this concession once a year.

The minister stated welfare of railway staff would be given high priority. 6,560 staff quarters will be constructed this fiscal and indoor sports stadia developed in major railway divisions and zones. An increased contribution of Rs 350 per employee to the staff benefit fund will continue for a year, with Rs.100 per employee for women's empowerment, and scholarships will be introduced for higher education for daughters of the group 'D' staff.

The minister said the policy on railway recruitment boards would be reviewed and special recruitment drives for filling vacancies by those belonging to 'scheduled castes and tribes' as well as the physically handicapped would also be undertaken.

Railway budget at a glance

l 57 new trains, a dozen of them nonstop

l Poor to get Rs 25 monthly tickets for 100 km travel

l Rs 1,102 crore for better passenger amenities

l One doctor on each long distance train

l Tatkal booking time to be cut to 2 days

l Yuva trains @ Rs 299 up to 1,500 km

l 50 'world-class' stations to be set up

l Double-decker trains on select intercity routes

l 60 per cent concession on tickets to all students

l Concession for scribes raised to 50 per cent

l SMS updates for waitlisted passengers

Travel with 'Izzat'

The scheme aims to provide an opportunity to the poorest of the poor to travel with dignity. Under the scheme, a uniformally priced monthly season ticket of Rs 25 would be available free of all surcharges for travel up to 100 km for members of the unorganised sector with monthly income not exceeding Rs 1500.

'Duronto' to beat Rajdhani

For the first time in the history, non-stop train service is being introduced in India. The non-stop train service 'Duronto' will have AC and non-AC sleepers and will run between select cities throughout the country. The 12 new non-stop fast trains announced by Mamata will take less time than even Rajdhani Express to complete their journey.

Ladies special

Mamata proposed to run 'Only Ladies' EMU trains in Delhi, Chennai and Kolkata on the lines of those in Mumbai during office hours in suburban services. Women RPF personnel would be deployed for security of women passengers in trains.

White Paper on rail finances

The Railway Ministry will shortly come out with a White Paper on its current financial status. "This will help us in formulating the Railways' future plan," Railway Minister Mamata Banerjee told reporters soon after presenting the 2009-10 Rail Budget in Parliament today.
1. Vishakhapatnam-Secunderabad-Mumbai Superfast (bi-weekly).
2. Sriganga Nagar-Delhi-Nanded Superfast (weekly)
3. New Jalpaiguri-Sealdah Superfast (tri-weekly)
4. Bangalore-Hubli-Solapur Superfast (tri-weekly)
5. Howrah-Bangalore Superfast (weekly)
6. Pune-Daund-Solapur Superfast (daily)
7. Ranchi-Howrah (3 days via Ghatshila-Kharagpur and 3 days via Asansol); intercity (6 days a week)
8. Kamakhya-Puri Express (weekly)
9. Jabalpur-Ambikapur Express (tri-weekly)
10. Gandhidham-Howrah Superfast (weekly)
11. Delhi-Sadulpur Express (tri-weekly)
12. Ajmer-Bhopal Express (by integration of 9655/56 Ajmer-Ratlam and 9303/04 Ratlam- Bhopal express trains) (daily)
13. Bilaspur-Tirunelveli Jn. (Thiruvananthapuram) Superfast (weekly)
14. Mumbai-Karwar Superfast (tri-weekly)
15. Durg-Jaipur Express (weekly)
16. Dibrugarh Town-Chandigarh Express (weekly)
17. Delhi-Farakka Express (bi-weekly)
18. Hazrat Nizmmudin-Bangalore Rajdhani Express (tri-weekly), via Kacheguda
19. New Jalpaiguri-Delhi Express (bi-weekly), via Barauni
20. Mumbai-Varanasi Superfast (daily)
21. Mysore-Yesvantpur Express (daily)
22. Koraput-Rourkela Express (daily) via Rayagada
23. Agra-Ajmer Intercity Superfast (daily)
24. Mumbai-Jodhpur-Bikaner Superfast (bi-weekly)
25. Agra-Lucknow Junction Intercity (daily)
26. Hapa-Tirunelveli Jn Superfast (bi-weekly), via Thiruvananthapuram
27. Gwalior-Bhopal Intercity Express (5 days a week), via Guna
28. Kanyakumari-Rameshwaram Express (tri-weekly), via Madurai
29. Howrah-Haridwar Superfast (5 days a week)
30. Varanasi-Jammu Tawi Superfast (daily)
31. Gorakhpur-Mumbai Superfast (daily)
32. New Delh-Guwahati Rajdhani Express (weekly), via Muzaffarpur
33. Veraval-Mumbai-link service
34. Ranchi-Patna Jan Shatabdi Express (daily)
35. Jhansi-Chhindwara Express (bi-weekly) via Bina-Bhopal
36. Mumbai-Jodhpur Express (weekly)
37. Jamalpur-Gaya Passenger (daily)
38. Jhajha-Patna MEMU (daily)
39. Kanpur-New Delhi Shatabdi Express (6 days a week)
40. Bhopal-Lucknow-Pratapgarh Superfast (weekly)
41. Lucknow-Rae Bareli-Bangalore Superfast (weekly)
42. Shimoga-Bangalore Intercity Express (daily)
43. Madurai-Chennai Express (bi-weekly)
44. Guwahati-New Cooch Behar Express Intercity (daily)
45. Balurghat-New Jalpaiguri Express (daily), via Kishanganj
46. Alipurduar-New Delhi Jalpaiguri Express Intercity (daily), via Siliguri
47. Dharmanagar-Agartala Fast Passenger (daily)
48. Rewari-Phulera Passenger (daily), via Ringus
49. Shoranur-Nilambur Road Passenger (daily)
50. Coimbator-Shoranur Passenger (daily)
51. Mathura-Kasganj Passenger (daily)
52. Farakka-Katwa-Azimganj-Nawadwip Dham Express (daily)
53. Bangalore-Kochuveli Superfast (weekly)
54. Kolkata-Rampurhat Express (daily)
55. New Jalpaiguri-Digha Express (weekly)
56. Purulia-Howrah Express (bi-weekly)
57. Kolkata-Bikaner Express (weekly), via Nagore
Chandigarh, Amritsar to get world-class facilities
New Delhi, July 3
Chandigarh and Amritsar are among the 50 train stations that have been identified by Railway Minister Mamata Banerjee to be developed as "world-class" stations in the country. The other stations in the northern region that have been selected are New Delhi, Lucknow, Anand Vihar (Delhi) and Bijwasan, she said in her budget speech here today.
She also announced a railway medical college would be set up in Jammu and new tracks laid between Quazigund-Anantnag and Udhampur-Baramulla in Kashmir, Rewari-Jhajjar on the Rewari-Rohtak line and Churaru Takrala-Ambala Andaura on the Nangal Dam-Talwara stretch. 'Multifunctional complexes' with facilities like shopping, food stalls and restaurants will be constructed at the Anandpur Sahib, Dehradun, Jammu Tawi, Katra and Rae Bareilly train stations.
The minister said a dedicated freight corridor would be in place between Delhi and Mumbai. An industrial corridor is being developed in the area of influence of the western dedicated freight corridor comprising industrial hubs, rail-seaport connectivity, logistics parks and mega power plants. It will be executed in the public-private partnership mode. — TNS