Punjabi antenna
Honesty and anchoring
Randeep Wadehra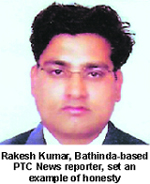 Last fortnight, in a prime time bulletin of PTC News, one witnessed a piquant situation. A Ludhiana-based firm sold defective paddy-sowing machines to farmers in Bathinda. When asked to take back the machines, the firm declined. The farmers went on a dharna. Rakesh Kumar, the Bathinda-based PTC News reporter, was covering the proceedings. The firm's officials approached him to kill the report, which Rakesh declined.
One of the officials forcibly shoved Rs 20,000 into Rakesh's pockets and fled. Fortunately, the cameras were rolling and the entire episode was filmed. When the police was approached with the complaint, they arrested the accused but discovered that there was no provision in the penal code for booking a person for trying to bribe a private news channel's reporter.
Since the said reporter isn't a public servant as defined in the law book, bribing him cannot be described as a crime! Archaic laws? Unimaginative implementation? Sloppy legislations? Interesting topics for talk show discussions, what?
The mention of talk shows brings anchor's role into focus. Must he remain scrupulously neutral, or should he intervene to correct any bias that might have crept into a discussion? SP Singh of Khabarsaar (Zee Punjabi) feels that in case there is unanimity of views among panelists, intervention can help prevent "hegemony of idea/ideology", especially if such unanimity is directed against someone who is absent.
Recently, he took upon himself to present the Akali viewpoint when the invited panellists— belonging to the Congress, the CPI and the BJP —became critical of SAD. On the other hand, Ritesh Lakhi feels that anchor's intervention is necessary to keep discussions on track. Often, one has to play the role of a contradictor in order to keep the perspective intact.
However, says Lakhi, this earns odium for the anchor. He often gets branded as belonging to the 'other party', depending upon who has been contradicted. So Lakhi gets accused of being a hidden Akali, a secret Congressman, a silent Communist sympathiser and a camouflaged Hindu fundamentalist by various invited panellists. Does it worry him? He shrugs and says: "One has to cope with such professional hazards".
Davinder Singh of the Lok Bani fame has a different take altogether. He points out that while in LB he has never hesitated from taking people in power to task, in talk shows he rarely intervenes because the concerned panelists must have full say. However, he avers that one must not allow a debate to turn into a self-promotion exercise. "Some panelists turn into gas bags, letting out hot air just to monopolise footage. The anchor must intervene in such situations" Davinder asserts.
Balwinder Singh of Zee Punjabi, who has produced many a talk show, including Khabarsaar, adds that invited panellists—both professors and politicians—are very candid and articulate off-camera. But the moment the shooting starts, they often turn ambiguous. Most of the invited politicians are not sure how their respective high commands would react to their on-camera utterings. So they resort to inanities.
However, he is puzzled over the non-political invitees', especially academicians', prevarications. Is the high command syndrome responsible for frequent tu-tu-main-main too? Balwinder agrees that this might be a factor. Nevertheless, there are anchors who indulge in excessive verbiage, too. They need to keep their questions/interventions short and cogent.
Viewers are interested in knowing what the panelists have to say and not in collecting the pearls of wisdom dropping from the anchor's lips. Having said this, one must congratulate the Punjabi media for doing a good job of presenting varied viewpoints on different issues, even though there is a need to ponder over the British TV executive John Birt's words: "There is a bias in television journalism. It is not against any particular party or point of view. It is a bias against understanding".